Lodge #2353 Home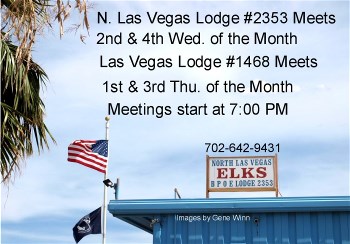 2939 Van Der Meer N. Las Vegas, NV. 89030 [702]642-9431 G.P.S. WGS 84 36°12.798 N / 115°6.403 W Exalted Ruler, Gabby Scott and her Corps of Officers extend a WARM WELCOME to all Elks and their families and invite you to visit the Friendliest Place in the Friendlist City in Nevada.

We meet on the second and fourth Wednesday of each month at 7:00 P.M and would love to have you drop by and attend a meeting or just say hello.

While you are on board, we also invite you to thoroughly investigate our Web Site by clicking on each Menu Item (in turn) that you see listed in the left hand column of this page. You can find out more about us - what we have done - what we are going to do - and how to get here. Thanks for dropping by and come back anytime.

If you are busy rowing the boat, You won't have time to rock it.
---
Back to top