Lodge #1015 Home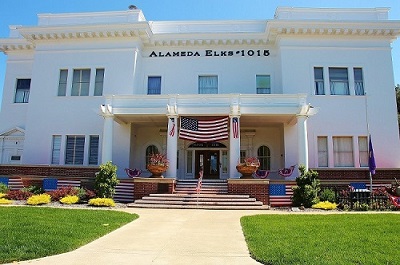 Welcome to the Alameda Elks Lodge...
The Liveliest Lodge In Elkdom!
Lodge Meetings are hold on the 2nd & 4th Mondays of every month beginning at 7:30pm, with the exception or May, November & December. Our House Committee meets on the 3rd Tuesday of each month at 6:30pm and our Board of Directors meets on the 3rd Thurday starting at 6:30pm.
Our Antlers Lodge meets on the Tuesdays following the regular Lodge's meetings, except for the month of June and July. Antlers meetings begin promptly at 6:00pm.
We are conveniently located less than 2 blocks from the Park Street Business District at 2255 Santa Clara Avenue. Alameda City Hall is next to us!
Our Members and programs support the communities of: Alameda, Berkeley, Castro Valley, Emeryville, Montclair, Piedmont, Oakland, San Leandro and portions of San Lorenzo.
You can reach the Lodge by calling (510) 522-1015. Our Lodge Secretary (Howard Weinman) can be reached at EXT 11; our Lodge Treasurer (Elizabeth dos Remedios) is at EXT 10; and our House Committe / Lodge Rental Office (Shirley Bierman) is at EXT 18.
Please check out our VHP website for: 2021-22 Lodge Officers, major Lodge Committees and their members, our Lodge bulletin - 'The DOINGS', monthly calendars and much more. You can also click on the link above to reach our other website.
---
Back to top