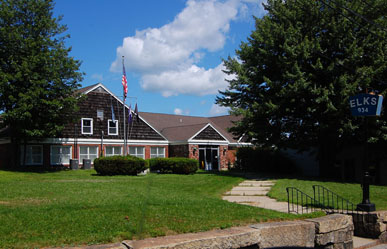 In beautiful Mid-Coast Maine, the city of BATH boasts a long tradition of Shipbuilding, and the area lays claim to the first ship built in the "New-World" just down the Kennebec river in Popham. Since then, the Kennebec has produced timber and ships for England, the Colonies and the United States, and continues doing so in the present day!

Just a few hundred yards downriver from our lodge is the home of the "Bath Iron Works" shipyard, where "ARLEIGH BURKE" class destroyers have been built for the US Navy for decades. BIW's been building ships for the Navy since the late 19th century, and this historic yard led the way into the 21st century by designing and building the distinctive USS ZUMWALT class of Destroyers.

Stop in our Lounge to meet our friendly members and enjoy a cold refreshment
while marveling at our views of the Kennebec River.

The front entrance (from LAMBARD St.) is pictured above, our more frequented entrance is directly off our parking lot out back which can be accessed by entering from FRONT St, between the Bath Town hall and "Bank of America" buildings.
Lounge hours are 11am to 9pm Monday to Thursday, 11am to 10pm Saturdays and 9am to 5pm Sundays.
Call (207) 443-9852 to confirm during your visit.
Meetings are on the 2nd & 4th Thursdays of each month, with the following exceptions:

July & Aug are on the 4th Thursday only November's meeting is the 2nd Thursday only

Like us at https://www.facebook.com/pages/Bath-Lodge-of-Elks-934/127880537288531