Southampton Photo Gallery

With the proceeds of the Southampton Elks 2009 Golf Tournament, a second van was donated to Disabled American Veterans Transportation Services, to transport veterans from our area to medical appointments.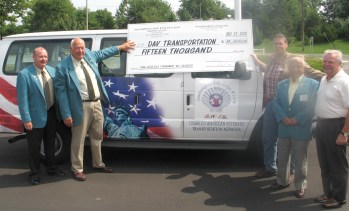 Proceeds from our 2008 Golf Tournament were used to purchase a van to transport Veterans to medical appointments and facilities. Shown are, L to R, E.R. Tom Daily, Golf co-chair Pete Magnuson, DAV chief of transportation, Golf co-chair Artie Orlowski, and member Skip Heaney, a major supplier of auction prizes.
---
Back to top