March 2021 Donation
In March we gave a donation to the
"Boone Homeless Fund".
In March we gave a donation of $300.00 to the "Boone Homeless Fund".
Boone Lodge No. 2884 Exalted Ruler Scott Safly and several lodge members, officers, and Antlers presented Annie Walert Cook the director of the Boone Homeless Fund with a check for $300.00. the check was given to help out the victims of the apartment building in uptown Boone that displaced 11 people, due to a building fire .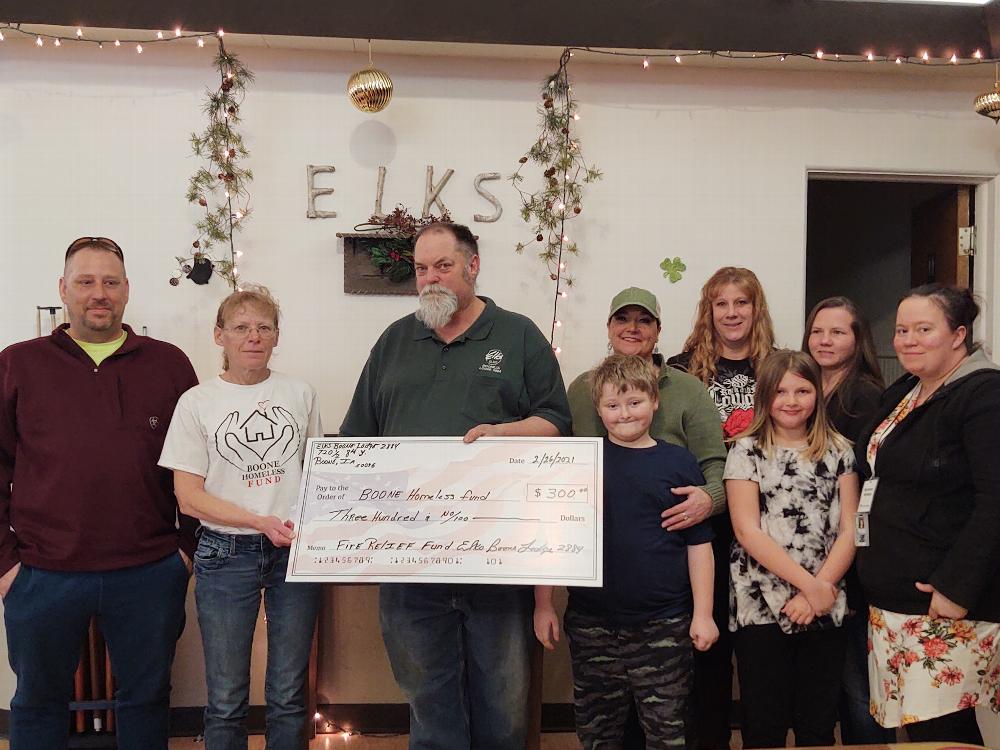 Contact an officer if you would like more information on how to get involved and become a local Boone Elks Lodge member . The current officers are Exalted Ruler Scott Safly, Leading Knight Tracy Davis, Loyal Knight Ronda Olszweski, Lecturing Knight Bonnie Barnett, Secretary Brittany Whiton,, Treasurer Trinitie Barnett, Esquire Michael Whiton, Inner Guard Alex Welsh, Trustees Lori Carstensen, Lou Ann Ahrens ,Jacob Schroeder, and our Chaplin Elizabeth Anderson. Any one of these people would be happy to speak with you.
We are located at 720 ½ 8th St. Boone Iowa.