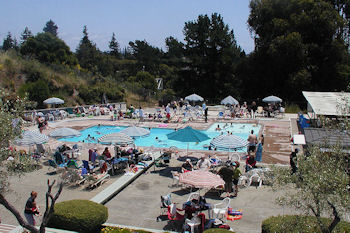 SEASONAL EVENTS
The Pool and Tiki bar are open daily from Memorial Day through the first week of October
Annual BBQs are scheduled for the following dates:
Preview Day and Pool Preparation Party (Mid May), Memorial Day, Fourth of July, Labor Day & the last day of pool season
Avenue of Flags
Every Memorial Day, Flag Day, 4th of July, and Veterans Day, the Santa Cruz Elks Lodge #824 creates an impressive of display over 300 American Flags along the drive in the Santa Cruz Memorial Park Cemetery. These Flags, which draped the caskets of departed Veterans, have been donated to the project by the family of each Veteran. Each flag is numbered, stored at the Lodge, and returned to a specific location every time it is displayed. This project was started in the late 70s, under the leadership of Brother Bob Young, USA ret., and has grown to include three other cemeteries in the area (administered by other organizations). Members are encouraged to bring their families and participate. Flags are placed at 6:30am and folded and retired at 3:30pm. Every five years, an additional Avenue of Flags occurs on September 11th.
January: Family Night
February: Family Night
March: Family Night, Public Safety Appreciation Night
April: Family Night, New Officer Installation Ceremony and Celebration
May: Mothers Day Ceremony and Brunch, Annual Pool Cleanup and "Preview" Swim Party and BBQ, Memorial Day BBQ
June: Family Night, State Officers Visit
July: Fourth of July BBQ hosted by PERs, Family Night
August/September: Labor Day BBQ, Family Night
October: Family Night
November: Charity Dinner and Charity Project Planning
December: Holiday celebrations