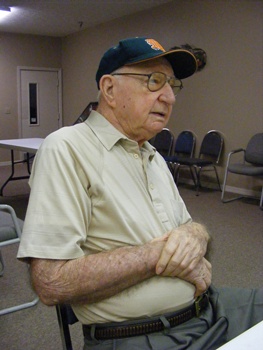 A Brief History of the West Citrus Elks as told to Rochell Kaiser by Charlie Hinkle.


The year was 1984. Homosassa was a small town back then. The big grocery store was Hudson Foods, located where Publix is now, on U.S. 19 and Halls River Road. The small shopping center held the food store and a few smaller stores on either side but not the large center that stands today. "Bill Greet called me and suggested we start an Elk's lodge here," said Charlie Hinkle, an original founding member. "We contacted a few stray Elks who were members up north and decided to meet".

Their first meeting took place at the Yardarm Restaurant. It was then the group decided to apply for a charter to establish an Elks lodge on the west side of the county, only they didn't have enough members to start a charter. The small group contacted the Inverness Elks to enlist their help, but they were opposed to it for fear of loosing members and said no. It was then that the Aripeka Elks Lodge stepped in to help.

By now the membership had outgrown the Yardarm and they moved their meeting location to Neffer's Bowling Lanes, only at that time Neffer's was a skating rink. Meetings were then moved to a storefront in the Hudson Foods shopping center. "We didn't' have a lock on the door and people would just walk in to see what was going on," said Hinkle. People would then come to the meetings because there wasn't anything else to do back then."

Pretty soon, as residents became more familiar with the organization, membership began to grow. It would take 120 members before the group could receive its charter. It
wasn't long before there were 197 members. With Aripeka's help the group finally received its charter and members of the new West Citrus Elks Lodge #2693 were installed. That was 25 years ago. Aripeka then became the mother lodge for the West Citrus Elks, something every lodge has. Before long members saw the need for a more permanent
location so it was decided a corporation would be formed. "We purchased bonds and raised $450,000," said Hinkle. "We didn't want a mortgage."

In order to use land already available to them, a street would have to be closed off to make a parking lot and they needed approval of nearby neighbors not only to close the street but to build the building as well. "We had to promise to close the road and not make any noise after a certain hour," said Hinkle. This promise is still followed by the Elks lodge today. Local contractor, H.D. Harris, was hired to put the building shell up and that was it. With expertise from members with various backgrounds they were able to finish the inside construction.

Hinkle was elected Exalted Ruler in 1985 and 86 and remembers it wasn't long after that the Ladies of the Elks soon formed their own group and were chartered the same year with 57 members. "We were an all men organization at that time," said Hinkle. "The ladies were right with us from the very beginning." The West Citrus Elks Lodge now boasts nearly 1,000 members and has just elected its first woman Exalted Ruler, Jean Ortt.

The Elks have come a long way from its early days 25 years ago and Hinkle remembers all of it. "Out of the original 200 members. I can only think of four that are still alive," said Hinkle. Hinkle is one of them. On Sunday, April 25, 2010 the West Citrus Elks Lodge celebrated it's 25th anniversary.

Rochell Kaiser is the editor of the Homosassa Beacon Citrus County Chronicle.