Brick Elks Bingo
Brick Elks Lodge #2151 Bingo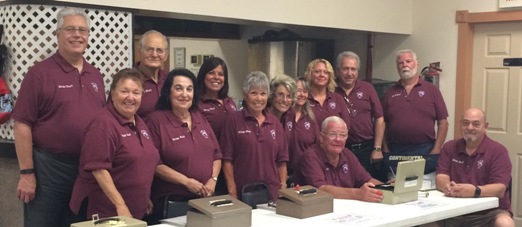 Welcome to the Brick Elks Bingo. Our bingo occasion is held on every Wednesday at 7:00 PM. Doors open at 4:30 PM. We also have our kitchen open before the games start and sell large soft pretzels, soda and coffee during our 10 minute halftime break. Weave a large gaming room and plenty of parking spaces. Ink daubers, tape, seat cushions and bingo bags are also available for sale.
Sample Entry Form (Subject to change)(PDF):
Admission is $2.00; includes a 3on 6up package.
Other packages available for purchase:
6on 6ups for $4.00
9on 6ups for $6.00
12on 6ups for $8.00
Extra sheets available: (Single 4on sheets)
All 50/50 sheets $1.00 each
Red boarded progressive Sheets $1.00
There are three (3) 50/50 games
One progressive game
State regulated rules for game play: Electronic board is not official, it is for your convenience only. No one under the age of 18 is promitted in the bingo hall. Prizes may be reduced in the event of low attendance. Other regulations:
No four (4) corners
No reserving seats
No cell phones anyting
No card playing
No Alcoholic beverages
No outside food.
No smoking or E-cigs in building
---
Back to top