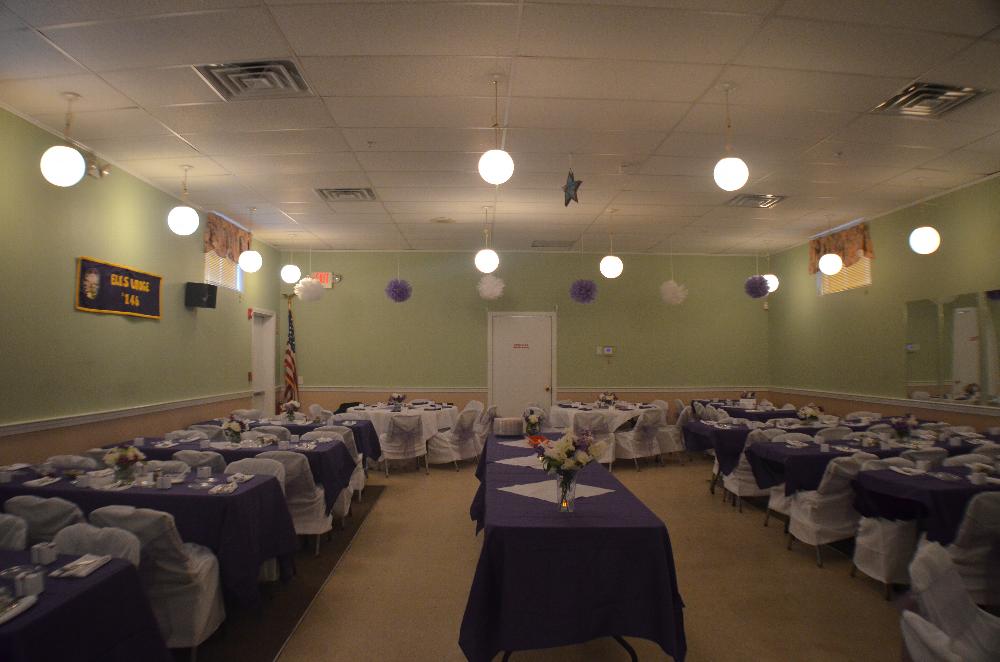 Hall Rentals
The function hall is available for rentals, day or night, 7 days a week. Most events can be accommodated, such as.... Wedding Receptions, Ceremonies, Rehearsal Dinners, Birthday Parties, Anniversaries, Business Meetings, Bridal Showers, Baby Showers, Graduation Parties, Bereavement Meals, and Charitable Events.
You may bring in your own food.
All hall rentals require a bartender.
Outside drinks of any kind are not permitted, no exceptions. Pitchers of soft drinks are available.
Referrals available for linens (including tablecloths and chair covers), balloon arches, flowers, cakes, limos, DJ services, photography, Justice of the Peace
Seating Capacity
The function hall seats 60 comfortably. Functions not requiring tables for seating can accommodate up to 80. Our entire facility is non-smoking.
Rates
$150.00 Elks Member (includes bartender)
$275.00 Non-Member (includes bartender) Friday, Saturday, Sunday
Reduced rates Monday through Thursday. Call the Lodge for pricing. 603-623-9126
Want to become a member? Come to the Lodge, check us out and speak with our members about the process. You may also apply online at www.elks.org
Security Deposit
Lodge #146 Member - no security deposit
Non-Member - $150.00
Member of another Lodge - $150.00
Parking
Entrance to the Lodge parking lot is on School St.
Hours
Sunday:Closed.... Monday: Closed....Tuesday - Friday: 4pm to 10pm......Saturday 3-7 pm
Contact Dawn Jennerjohn at 603-494-0168 the Lodge for rental information.
Email Hall Rental inquiries to Elks146rentals@gmail.com or stop by the Lodge during regular business hours.