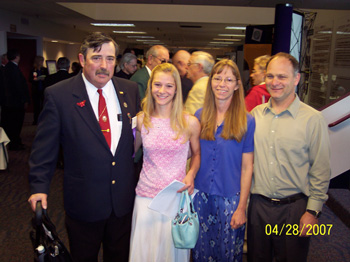 District Scholarship Chairman PER Larry Johnson, Linnae Roland and her parents Janet and Walter Roland at the Elks State Convention


Linnea Roland of Henley High School was the Ladies winner of the Oregon State Elks most Valuable Student Scholarship Contest. She gave an acceptance speech to the delegates at the Elks State convention April 28 in Seaside. Linnea will receive a total of $8300 from local, district and state contests by the Elks.

The Man's scholarship Oregon State Elks winner was A. J. Riggs of Roseburg. Riggs will get $8,800.

The Elks also gives a Two Year Vocational Education Scholarship. This year's recipients are Alicia Cummings from Nyssa, Ontario Lodge # 1690, going to Headmaster School for Hair Design in Boise, and Hailey Anderson also from Nyssa and Ontario Lodge #1690 who is going to Apollo College Dental School in Boise. Each will receive $1000 and can apply next year for another $1000.
The file is currently unavailable or has been deleted. Contact the Lodge webmaster rhbjr81@gmail.com for further information.