Lodge Facilities
Santa Cruz Elks Lodge
Santa Cruz Elks Lodge #824 is located near the Ocean Street off-ramp from Highway 17, just minutes from downtown Santa Cruz. The lodge facility, on a hill above Santa Cruz, offers a respite from the hustle and bustle of downtown, while also being centrally located. Our meetings are the 2nd and 4th Thursdays at 7:00 PM. Dinner is at 6:00 PM every Thursday. We honor Birthday/Buddy Nights the first Thursday of each Month.
Come visit us sometime!
Visit our new web page at www.santacruzelks.org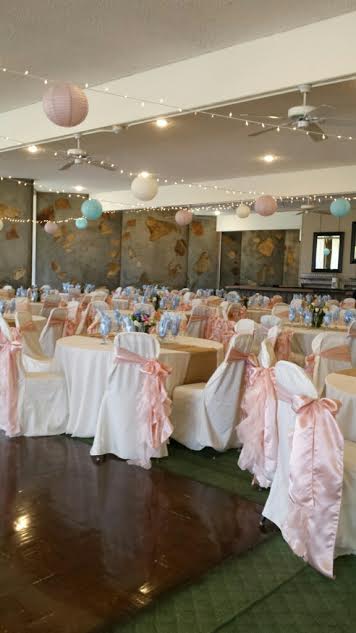 Dining Room
The lodge dining room is a spacious and versatile room, well-appointed for a variety of special events, including catered weddings, parties, meetings and other functions. Fully-carpeted, with an area parquet dance floor, banked large windows overlooking the pool area, and a second bar area.
We currently maintain relationships with three full service caterers and two food trucks for all your event planning needs. For more information, visit our new website.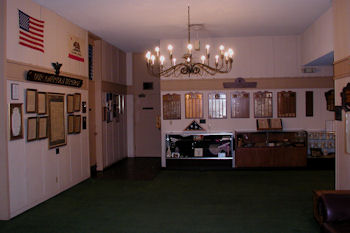 Lodge Office
Members, guests and visitors can call or visit the office during office hours to make reservations for Monday and Thursday dinners, book events or ask any other general questions regarding events, amenities or Lodge membership.
Office Hours 9:00 AM to 3:00 PM, Monday-Friday
Phone: (831) 423-8240
E-mail: sec824@santacruzelks.org
RV Camping
The Santa Cruz Elks Lodge can accommodate up to five RVs, each with a maximum length of 35'. Stays can be booked 30 days in advance. Maximum stay is 7 days with one extension allowed (14 days total) if spaces are available. Check-in is at noon, and check-out is at 11am. There is a 72 hour full refund cancellation policy. Refunds within 72 hours are at the discretion of the RV committee chairman. Accommodations include WIFI, electrical and water hookups and an on-site dump station. Reservations can be made by calling the Lodge office at 831-423-8240 between the hours of 9 and 3 on weekdays.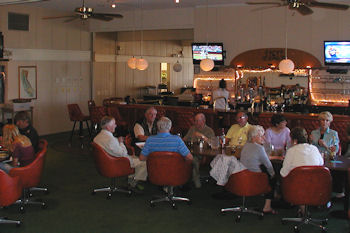 The Retro Bar and Lounge
Retro is back! Our lounge features a long, curved bar with vintage lounge seating and a spacious area for visiting and mingling, along with three flat screen TVs. The lounge is included in dining room rentals, or can be rented as a stand alone area for your event.
For more information on renting the lounge and other lodge facilities call the office at 831-423-8240.
Please visit our new website!
Bar Hours: Open at the same time as the Monday and Thursday dinners.
Restaurant Hours: Open at 5:00 pm for Elks members and guests on Monday and Thursday evenings. (Guests are not admitted on second and fourth Thursdays, and the bar is closed while Lodge is in session.)
Please refer to the calender in the News Bulletin, or contact the Lodge office regarding dates and hours of special events.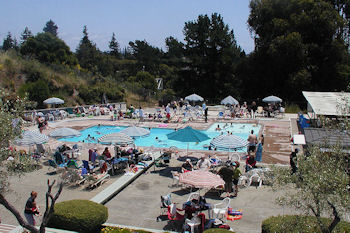 Swimming Pool
Our pool is open May 21 to September 30. Visiting Elks and guests are welcome. Hours are 12:30 pm to 7:00 pm (to 4:00 pm on Thursdays and Sundays). "Snack Shack" food service available during most pool hours. There are no lifeguards on duty.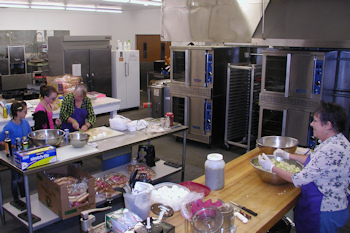 Large Commercial Kitchen
Our large commercial kitchen features updated equipment with an open work/prep area along with a walk-in freezer, and a heated serving line. Proudly, we have a recycling program in place.
For more information on renting the lodge facilities call the Lodge at 831-423-8240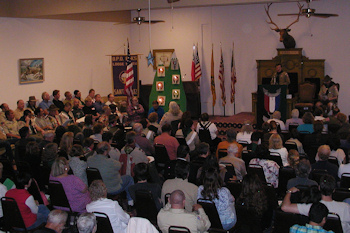 Community service
A great venue for staging Elks youth and community service programs. [Photo shows an Eagle Scout Court of Honor in the Lodge Room.) For more information on renting the lodge facilities call the Lodge office at 831-423-8240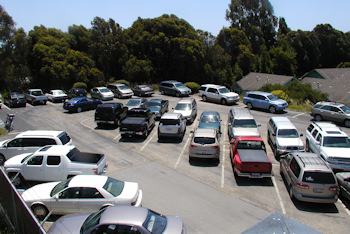 Ample parking
Our lodge has a generously-sized, well-lit, on-site parking lot directly in front of the facility which is convenient for lodge functions, and available to your guests for your special event.
For more information on renting the lodge facilities call 831-359-7589 or email sunnycatering@yahoo.com.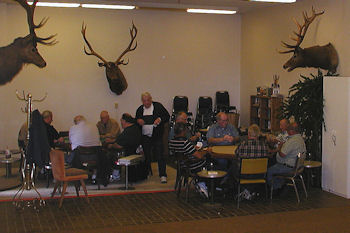 Members Only
Card room, library, television, members' bar & lounge, pool hall, fitness center with steam room & sauna. Open to Santa Cruz members only. Bar service available Thursdays from 10:00 a.m.
---
Back to top