Lodge Facilities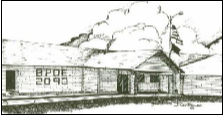 Show Low Lodge Location
805 E. Whipple Directions to the Lodge:
As you enter Show Low city limits driving East on US Highway 60, the street name is the Deuce of Clubs, turn right on West Whipple, the first street after the traffic light as you enter town. Proceed approximately 1.5 miles, the lodge is located on the right side of the road.
Driving South on State Route 260 (Street name is Clark Rd in Show Low): At the intersection/traffic signal of US Highway 60, turn left. The first right turn is West Whipple, proceed approximately 1.5 miles, the lodge is on the right side of the road.
Westbound on US Highway 60 (Deuce of Clubs): Turn left on Central Ave., proceed to Four-Way Stop at Whipple, turn left, proceed approximately 1 mile. Lodge on the Right side of the road.
The City of Show Low, established in 1870, incorporated in 1953, and located at an elevation of 6,411 feet, Show Low sits in the largest stand of Ponderosa Pine in the United States. It is 175 miles northeast of Phoenix and 195 miles north of Tucson. Show Low offers panoramic views, good fishing in mountain lakes and streams, and miles of wilderness for hiking, camping, cycling, horseback riding and downhill and cross-country skiing. It also features unique shops and fine, as well as casual, dining at many restaurants. Show Low is the business hub of the White Mountains, with a population (2000 Census) of 8000 year-round residents. During the summer months, when people escape the heat of Arizona's desert climes, Show Low is home to an additional 10,000 citizens.
Show Low Elks Lodge Lounge
Summer Hours: Monday - Sunday 11:00 a.m. - closing. Closing time is left to the discretion of the bartender and requires 5 card carrying members to be present to stay open past 6pm, unless there is an event or program. Happy Hours: Mon - Fri 11am-1pm & 4-6pm 25 Cents off of all drinks. Lounge includes:
Pool Tables
Shuffleboard
Darts
Kids' Room

Show Low Elks Lodge Banquet Hall
The Show Low Elks Lodge Banquet Hall is available for party, wedding, fundraiser or other events! It can seat up to 300 people for your next company celebration.
Contact the lodge 928.537.4901 for pricing and more information.
The Club Café (Lodge Kitchen)
Open for Friday Night Fish Fry 4:30-7pm
Fish
Chicken
Fries
Onion Rings
Cole Slaw
Wednesday Pizza & Wings 4:30 - 7pm
No longer serving lunch
Taco Tuesday, Second Tuesday of each month, 4:30 -7pm
Lodge Campground
Twenty full RV hookups (electric, sewer & water) are available in the cool pines. Camp host on site. Stay all summer. Rates for full hookups are $525 per month or $20 per night. Dry (no hookups) campsites are available for $10.00 per night. Make your seasonal travel plans and include a stay at one of the Show Low Lodge's beautiful campsites in the Ponderosa Pines of the White Mountains. Reservations for next season will begin in January 2019.
Horse Shoe Pits
Located near the Lodge Pavilion & Campground, the lodge boasts over a half dozen well-maintained horse shoe pits. Tournaments are held often throughout the late Spring, early Fall, and Summer months.
---
Back to top