Welcome!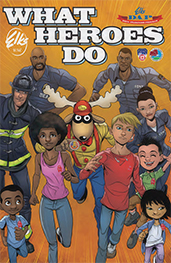 The printed version of the What Heroes Do comic book is available to be used in classroom situations. To order a What Heroes Do Comic Book Kit, please contact your State Drug Awareness Chair-person for the order form (See Contacts for list of State Drug Awareness Chair-person). The order form needs to be signed by a school official and your State Drug Awareness Chair-person.

You can view the online version at http://elkskidszone.org/what-heroes-do/.

What Heroes Do: Teacher's Guide
A Lesson plan for Grades 3-6
By Neal Shultz

This teacher's guide is brought to you and your students by The Elks Drug Awareness Program (DAP) working in close collaboration with their content partners, the DEA and FDNY.

Click this link to access the Teacher's Guide.
The Benevolent and Protective Order of Elks welcomes you to the resource center for the Elks National Drug Awareness Program - the largest volunteer drug awareness program in the United States. We are very proud of our dedicated army of volunteers who freely give their time and talents to this most noble cause. The Elks are committed to eliminating the use and abuse of illegal drugs by all members of society and believe that in order to ensure a bright future for our country, it is essential that our children be raised in a drug-free environment.



Latest News
→ Read more news
---
Back to top