Who are the Elks?
Elks are community.
No matter where you go in the country, an Elks Lodge is right around the corner. With more than 770,000 members and 1,800 Lodges nationwide, Elks are providing charitable services that help build stronger communities.
Click here to join us in service to your community!
Welcome to the Elks National Memorial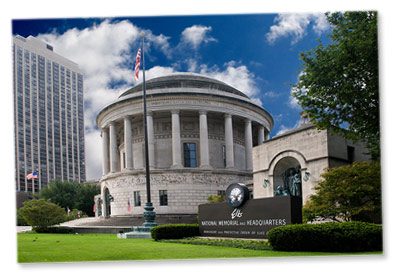 A monument in the truest sense, the Elks National Memorial was built in 1926 to honor Americans whose profound sacrifices for the nation can never be recognized by mere words. With its massive dome, heroic sculptures and intricately detailed friezes, the Memorial is a distinctively American interpretation of classical greatness.
On this website, you can explore the Memorial without leaving your chair. You can read about the building's history or take a virtual tour. When you're ready to come and see the Memorial in person, you can plan your visit, too.
Thank You!
Thanks to the following individuals for their generous online donations to the Elks National Memorial Restoration Trust:
Albert Valdez, Brawley, CA Lodge 1420
Jeffrey Coyle, Berea, OH Lodge 1815
Alex Brandon
Donald Ellis
Michael Wright, Pensacola Beach, FL Lodge 0497
---
Back to top