Lodge #2194 Home
Do you know the U.S. Special Flag Flying Days? January 1 New Year's Day, January 20 Inauguration Day (every fourth year), 3rd Monday in Jan Martin Luther King, Jr., Birthday, 3rd Monday in Feb President's Day (Variable), Easter Sunday, April 6 Army Day (Navy only), April 13 Thomas Jefferson's Birthday (Army only), April 14 Pan American Day (embassies in Latin America), May 1 Loyalty Day/Law Day (Army only), 2nd Sunday in May Mothers Day, 2nd Monday in May Peace Officers Memorial Day, 3rd Saturday in May Armed Forces Day, May 22 National Maritime Day (Army & Navy only), Last Monday in May Memorial Day June 14 Flag Day, 3rd Sunday in June Fathers Day (Army only), June 27 Korean War Armistice Day, July 4 Independence Day, August 19 National Aviation Day (Army only), 1st Monday in Sept Labor Day, September 11 Patriot Day, September 17 Constitution Day, 3rd Friday in Sept POW/MIA Recognition Day, Last Sunday in Sept Gold Star Mothers Day (Army only), 2nd Monday in Oct Columbus Day (October 12 at Foreign Service posts), October 27 Navy Day (Navy and Marine Corps only), November 10 Marine Corps Birthday (Marine Corps only), November 11 Veterans Day, 4th Thursday in Nov Thanksgiving Day, December 7 Pearl Harbor Day, December 17 Pan American Aviation Day (embassies in Lat Am), December 25 Christmas Day
Please Become An Organ Donor
Please become an organ donor, save a LIFE! The official resourse page for enrolling in organ donation, tissue donation, or cornea donation with your state is www.donatelife.net
Thank You For visiting the website of the Allen Park Elks.
The friendliest lodge in the Southeast District.
KINDLY TAKE A MOMENT TO SIGN OUR GUEST BOOK SO WE KNOW WHO'S VISITED OUR WEBPAGE! Thank You!
Our lodge meets 1st & 3rd Mondays (Except July & August meets 3rd Monday only)
We are located at 6605 Park Avenue Allen Park MI 48101
CHECK OUT OUR CALENDAR FOR ALL THE EVENTS AT THE CLUB!
Tuesday is Burger Night - Come on down for a bite!
Friday Night Dinners, including all you can eat fish, steak, shrimp, burgers and salad bar FridayS 5pm to 8pm. LAST FRIDAY DINNER IS APRIL 6TH - NO FRIDAY DINNERS DURRING THE SUMMER WE WILL RESUME IN THE FALL - SEE YOU THEN!
Hope To See You At The Club! We're always having fun at the Allen Park Elks!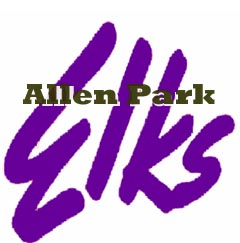 ---
Back to top