Lodge Facilities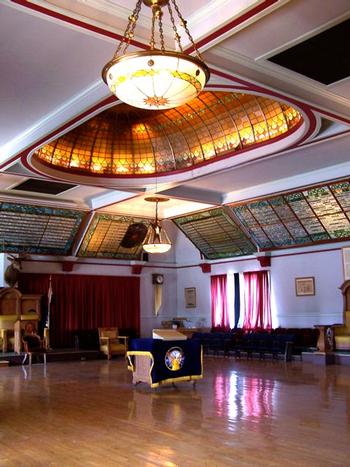 Clubroom/Bar
Full-service lounge/bar with the friendliest bartenders in town. The lounge includes a pool table, big-screen TVs, sound system, and pull tabs. Hours: Monday through Saturday, we are open 12 noon to 8 p.m. Sundays closed. These are temporary hours during this phase of the COVID 19 pandemic. Please check back periodically for changes in schedule. Our entire building is smoke-free.
Dining
Come on over for dinner on Fridays from 5 to 7 p.m. Our Friday menu has expanded to offerings which might include steak, ruben or pork loin sandwiches, lasagna, potato bar, burgers, pizza and much more. All meals cooked fresh on-site. Many dinners are $6 and others no more than $10. If you have never had pork loin, you need to pamper yourself with this old Midwest standby. Be sure to check the monthly calendar to see what's cookin'.
During this time of COVID 19, Jack of Spades drawing on Friday evenings has been suspended.
Ready-made personal pizza is always available during club hours.
RV Parking
Level paved parking lot offers four electrical hookups: three 220/30 amp and one 220/50 amp. $20 donation per night. For more information, contact Secretary Patti Evenson 970-243-0675, elks575@gmail.com.
CAUTION LONG RIGS! Entrance to the parking lot crosses a deep gutter. Enter the parking area slowly at an angle to prevent dragging your tail.
Facilities Available for Rent
Notice: during the COVID 19 pandemic, we are not able to rent the Lodge for any functions. Please stay tumed. I will leave up our normal information and hope we get back to it soon.
Looking for a comfortable, memorable place for meetings, parties, special events? Our beautiful historic Lodge is available for rent. Lodge facilities include a large ballroom, various smaller rooms, commercial kitchen and dining room seating for 200. Facilities are available for weddings, reunions, business meetings, conferences, seminars, etc. Room rental rates are as follows: Ballroom - $400 for up to four hours, and $100 for each additional hour. Wapiti Room - $300 Banquet Room - $300 ELKS MEMBERS GET A 10% DISCOUNT ON ANY ROOM RENTAL! For more information, contact the Lodge secretary at 970-243-0675 or email elks575@gmail.com.
---
Back to top