Lodge Facilities
Dining Room & Kitchen
Our dining room has seating capacity for up to 150. We have a full-service kitchen and food preparation area.
Lounge
Our complete lounge/bar facility is open to members and their guests (see hours in Bulletin), and by special arrangement for private parties. We have 3 large screen TVs, darts and card tables.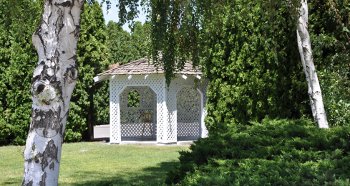 Patio and Gazebo
We welcome outdoor functions on our patio and in the gazebo. Weddings are common in our gazebo set in a lush sylvan area of the Lodge property.
RV Parking
We welcome visiting Elks to park their RV/Campers in our parking lot. While we do not have hook-ups, we do offer our hospitality. There is no charge, donations cheerfully accepted.
Meetings/Functions
We would be glad to host your meetings and functions. We welcome retirements, business meetings, remembrances, family or group parties, other club and organizational uses of our facility. We offer a smaller carpeted room seating up to 40, our lounge seating 15-20, and our dining room with capacity up to 150.
---
Back to top