Lodge Facilities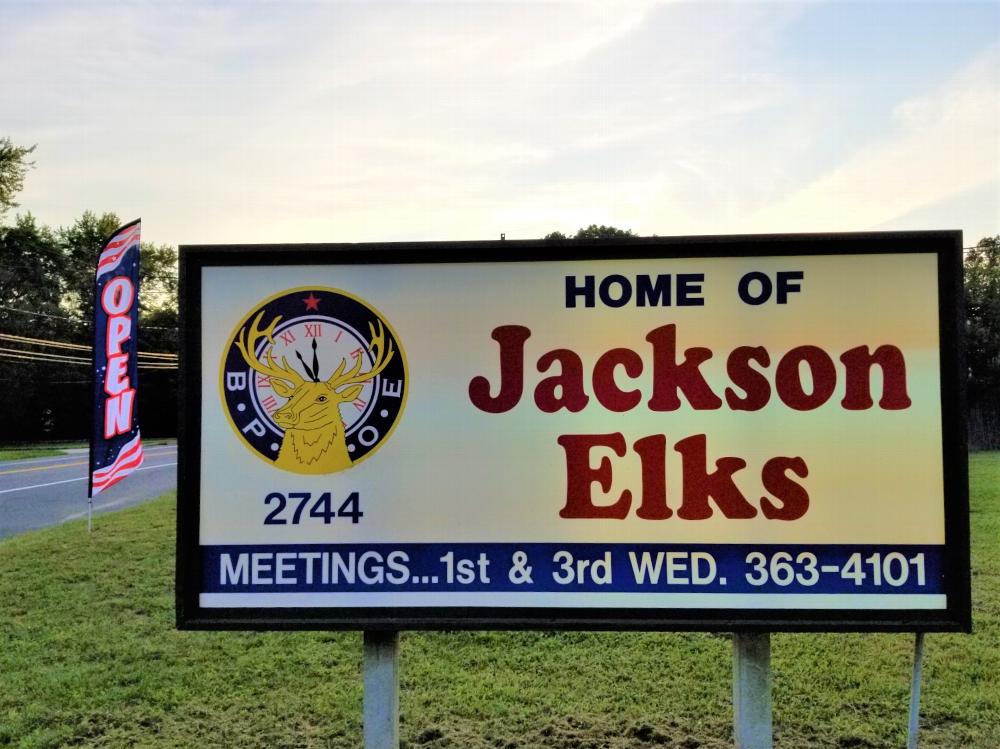 About Our Location
Located on East Veterans Highway in Jackson Township, Jackson Elks Lodge (behind the house) is situated on three lush acres surrounded by woods. Our facilities include a lounge and banquet hall, which accommodates 75 guests comfortably. We also have a patio pavilion that is perfect for holding barbeques and a huge backyard with a volleyball court.
Jackson Elks is approximately six miles from Six Flags Great Adventure Theme Park and the famous Jackson Six Flags outlets. If you're not from the area and enjoy the outdoors, our lodge is also only within two to three miles of several campground sites.
Jackson Elks Hall
Our Banquet Hall comfortably seats 75 guests. For formal or casual functions, we offer the ideal accommodations at modestly-priced rates, and the proceeds from it go back into the community, helping to support our charitable work, donations, and lodge.
Grease was the theme of this 14-year old's festive birthday party in our Hall.
For more information, contact the lodge at (732) 363-4101 and ask to speak to our Banquet Manager, or contact us by email at jacksonelks2744@gmail.com. Be sure to leave your phone number, and someone will respond to your inquiry as soon as possible.
Patio Pavilion and Deck
Enclosed on three sides with direct access to our lounge, our patio pavilion provides a sense of intimacy and shade from the various elements while overlooking a wide open field that stretches out onto a lush, wooded landscape.
Rounding the corner from our patio and opening out from our lounge, our deck often serves as a stage for our musical fundraising events and affairs.
Our Yard
Nestled in behind the lodge is our scenic, spacious yard with a volleyball court, a room for horse shoes, a deck, and a fenced-in patio pavilion that leads into the lounge and makes hosting any event a breeze.
If you are interested in using our yard for an event, contact the lodge and ask to speak to our Banquet Manager or email us at JacksonElks2744@gmail.com. Please leave your phone number, and someone will get back to you as soon as possible.
Parking
With two lots on premises, ample parking is available to accommodate our guests.
---
Back to top