Lodge Facilities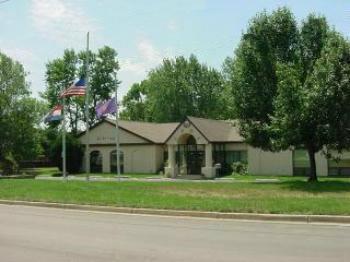 Our Community Image
Our Lodge building stands out in the community. It has an attractive stucco finish with arched windows and an enclosed glass foyer. We are settled on 9+ well-shaded acres in south Kansas City, with easy access for interstate travelers and RV'n visitors. Our facility is ADA compliant.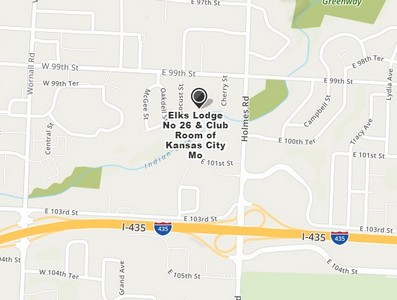 KC Lodge No. 26 Location
Leave I-435 in south Kansas City, at Exit 74, Holmes Road. Travel North on Holmes Rd. to 99th St. and turn left. We're located on the South side of 99th St., about 2 blocks West of Holmes Rd.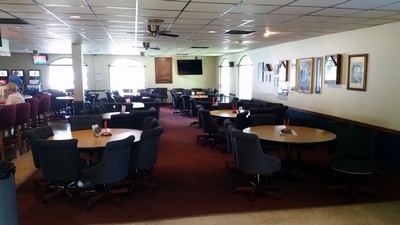 Social Quarters
Bright, Cheerful and Comfortable table seating for 100, Bar seating available Bartender on duty during club room hours Jukebox, Large screen TV, dance floor and stage. Snacks available. Wednesday and Friday Night Dinners for Members and Guests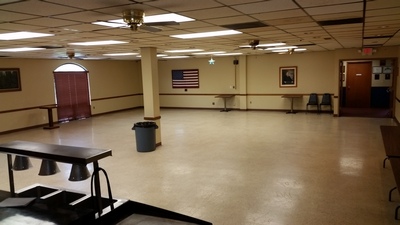 Mult-Purpose Hall
Our multi-purpose hall has a capacity of 150, with a stage, portable refreshment center and is handicapped accessible. Adjacent to our kitchen facility with easy access to parking, the hall has a neutral decor, perfect for holding receptions, dinners, parties and meetings. This room is available for rental, for more info on Hall rental please contact Kristin Carmody via email at: kristincarmody@smsd.org or by phone at 913-601-1997.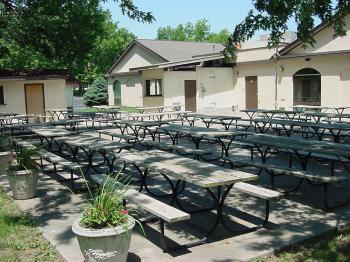 Patio
Bring a snack, or the whole picnic basket for a relaxing time on our spacious patio. There's plenty of room for a small group get-together or the whole shebang! Refreshments are available during Lodge hours.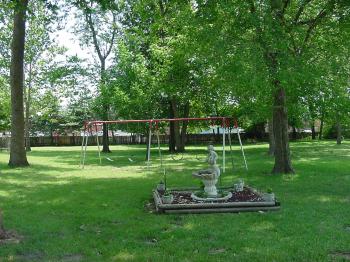 Playground for the Family
Bring the kids or grandkids and all their friends for a fun-filled afternoon romp in our shady playground. You'll find plenty of room to play croquet, horseshoes or an invigorating game of volleyball.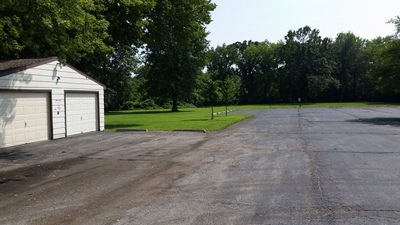 RV Parking
Our facilities will accommodate only 3-20 amp and 1-40 amp hook-ups of electricity and water. These will be rented on a first-come/ first-serve basis, for a donation of $15.00 per day and must be paid in advance. There is skads of parking for those "Self-Contained" units. Please check in and pay the steward on duty. For further information, please check the RV Parking notice on this home page.
RV Parking Rules
RV Parking Information and Rules for Kansas City Elks Lodge No. 26. The following rules for RV parking have been set and adopted by the Board of Directors of Kansas City Elks Lodge No. 26. Additional rules may be implemented at any time, depending on specific situations. 1. RV Owners (an Elk or a person accompanied by an Elk) must check in with the Steward on duty in the Club Room prior to hooking up their unit. 2. A daily donation of $15.00 will apply and must be paid in advance. Upon check-in please remit your donation to the Steward on duty for the number of days you will be on the property. Should you need to leave early you may request a refund for the days you do not use from the Steward on duty. If you are unsure how many days you will be staying you should leave a donation for 5 days in advance. 3. RV owners and their guests will be responsible for keeping their area free of any litter and/or trash. RV owners will also be responsible for their behavior and that of their guests while on our property.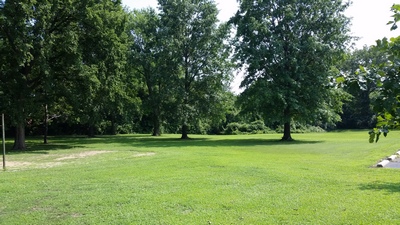 Hiking Trail
Easy acces to a Hiking / Biking Trail at the back of our property! Trail travels numerous area cities and parks. Miles and miles, many within the Historic Three Trails Corridor of the Sante Fe, California and Oregon Trails.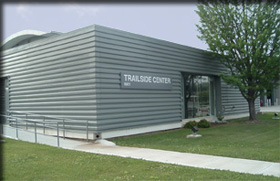 Tourist Information Center
The Three Trails Tourist Information Center is in close proximity to the lodge. It is on the southeast corner of 99th and Holmes! We are just two blocks west.
---
Back to top