Lodge Facilities
Manager
Club Manager - House Committee Kitchen Manager - Tami Horsechief
Lounge
Open Tuesday and Friday from 5:00pm till 10:00pm. Open till 1:00am (if business warrants). Happy Hour Fridays from 7-9p.m.(unless there is a function in the Lodge.) 50 cents off drinks if paid for by a paid up member!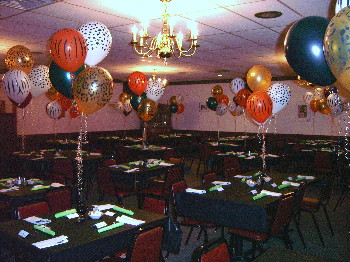 Dining Room
Open Tuesday evenings 5-9pm - Hamburger Night.
Open Friday Evenings 5-9pm, for Supper Special, in addition to the special there will be a limited menu available.
THE 3RD SATURDAY OF EVERY MONTH IS PRIME RIB NIGHT
Daily Noon Buffet
Open Monday thru Friday 10:30am- 1:30pm for noon buffet. Buffet is $7.00 or you may order from the sandwich menu.(Buffet menu is not published as it varies daily). Listen to KRFS-FM at 11:05 & KRFS-AM at 11:20 to hear what is on the buffet.
Sunday Family Buffet
Every Sunday from 11:00am to 1:30pm, all you can eat family buffet, featuring Fried Chicken every Sunday. Special Senior discount and children's prices.
Banquet Room
Please contact Tami to book your parties at (402) 879-3111
Patio
Our garden patio is a nice place to dine or to just go out and sip on your favorite beverage and enjoy the cool night air. Patio is open on the evenings the Lounge is open and is also available for lunch during the week.
---
Back to top