Lodge Facilities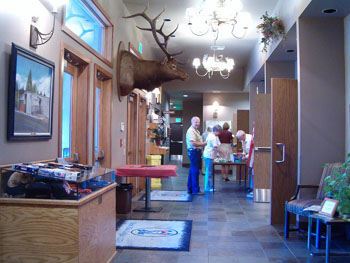 Welcome
Welcome to the Bend Elks Lodge Facilities. We have a full compliment of ammenities for our members and guests. Please browse our Facilities page for more info.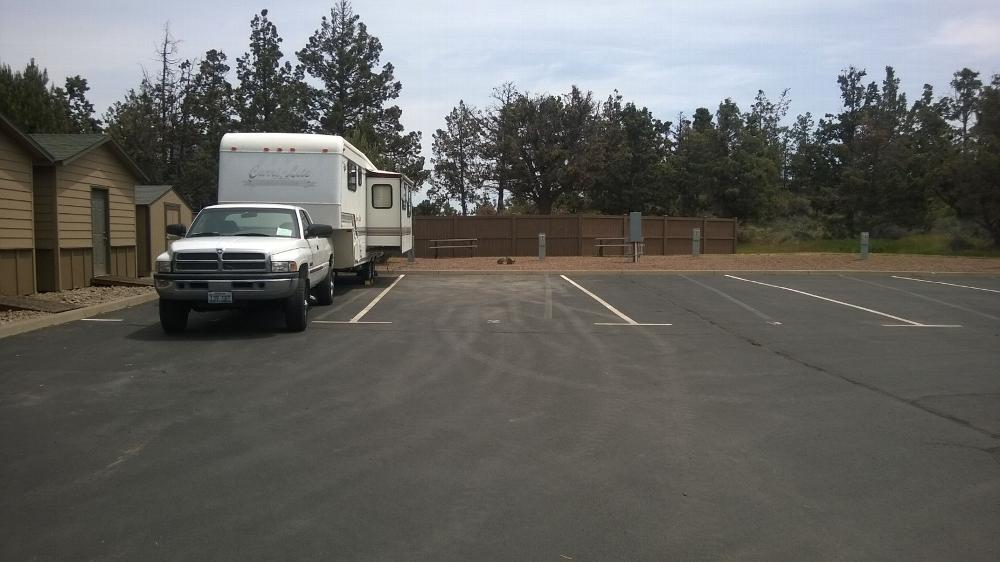 RV Parking
Registration forms and pay station at kiosk in East parking lot area. Please read & follow RV Rules on form.
Completed form and payment can be deposited in slot at kiosk or made in the Lodge if open.
7 spaces 14 1/2 foot wide with 50 AMP - $20 / night.
2 spaces 14 foot wide with 30 AMP - $15 / night.
Dry Camping $10 / night @ assigned parking lot areas without services.
Water access near front of building with 100 foot hose available.
Picnic tables and designated pet area are available.
Please keep dogs off of the lawn around the building and pick up after your dogs.
Ju
st 2 Blocks off of Highway 97 Parkway. Easy On-Easy Off. Spaces are Quiet and Behind the Building.
We are on the north side of Bend. Northbound Hwy 97 - Exit the Parkway at Empire Avenue (Exit 135B). Turn right onto Empire, then left at 1st light (Boyd Acres). We are the 2nd driveway on the right. Southbound Hwy 97 - Exit 135A Business 97. At first stop light (Empire Ave) turn left, then left at 2nd light (Boyd Acres). Southbound Hwy 20 - At Empire Avenue stoplight turn left, then left at 2nd light (Boyd Acres). Northbound Hwy 20 (from Burns)- Turn right on 3rd Street. Go north on 3rd Street past Robberson Ford, take onramp onto the Parkway toward Portland. Exit at Empire (Exit 135B). Turn right onto Empire, then left at 1st light (Boyd Acres). We are the 2nd driveway on the right.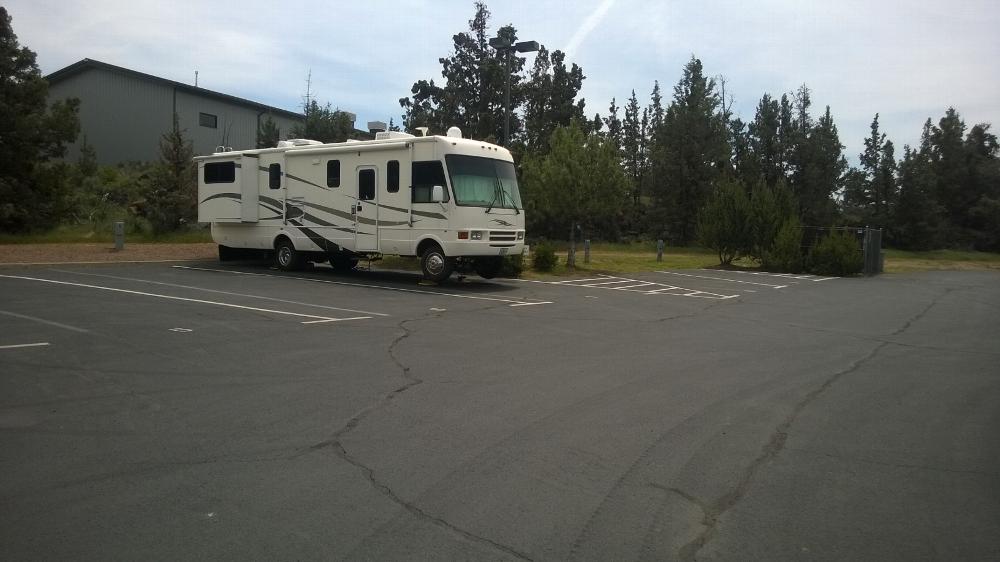 RV Parking Additional View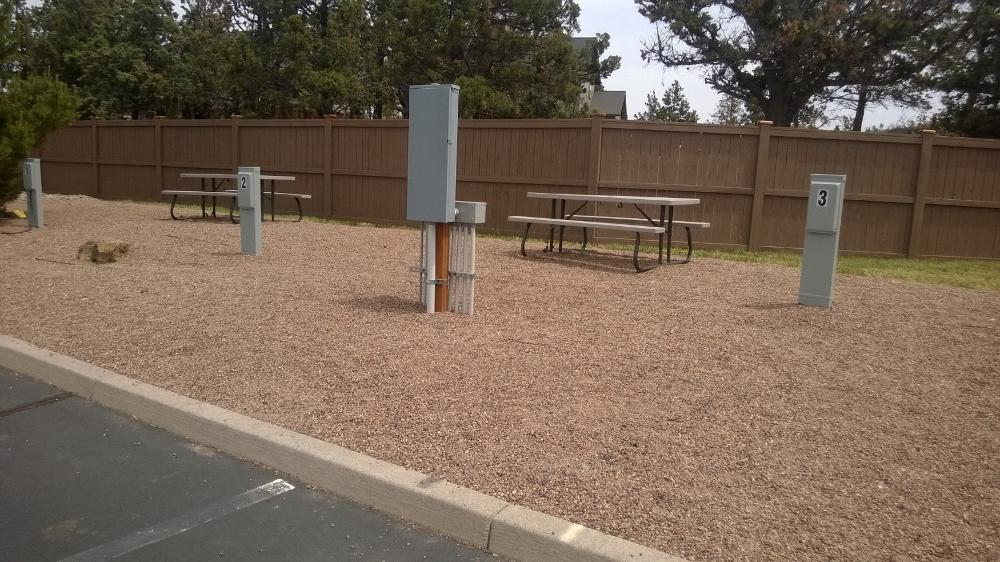 RV Picnic Tables
Relax and enjoy some morning coffee or lunch at our picnic tables behind the RV parking area.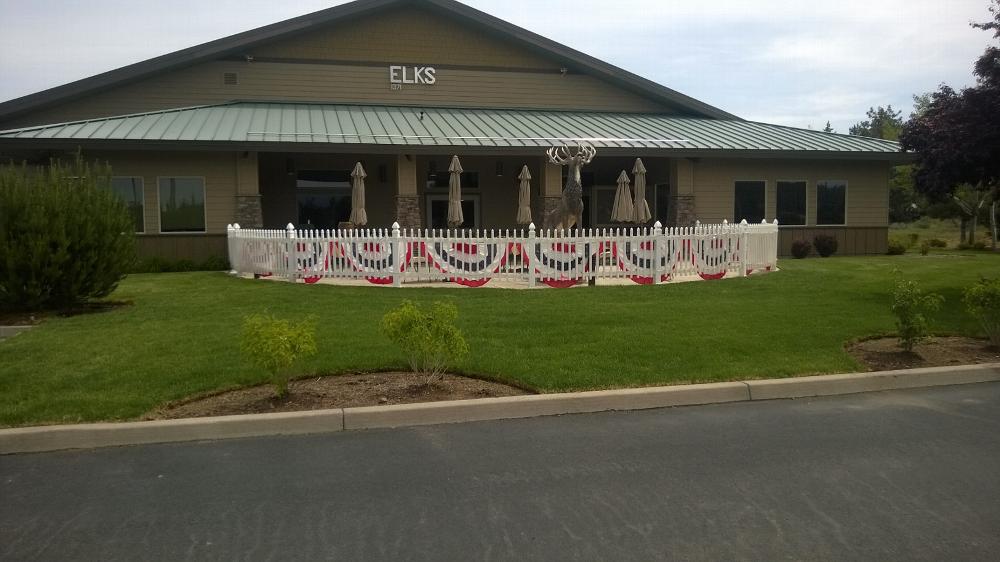 Patio
Beautiful Views. Tables with umbrellas. Enjoy the sunset over the Cascades.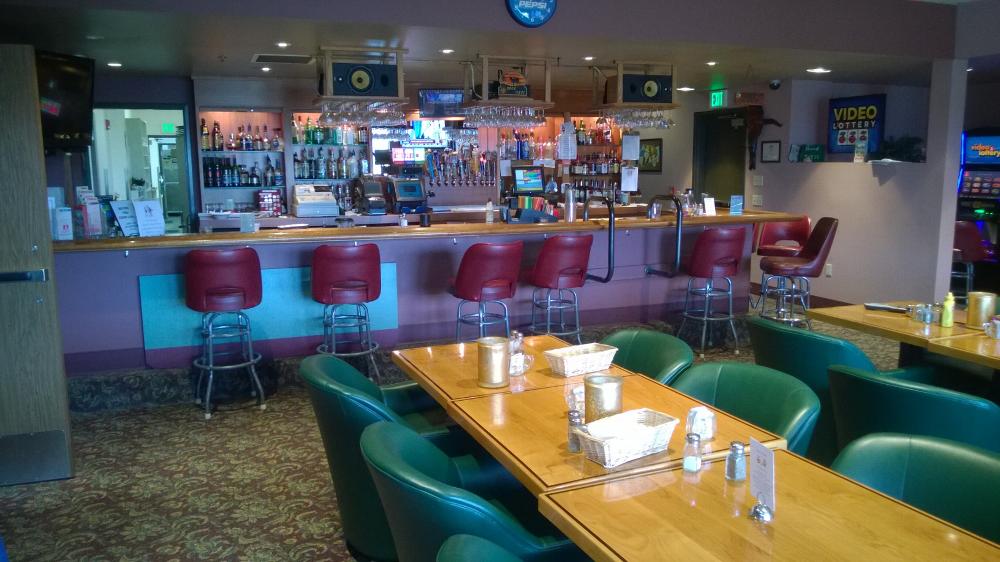 Club/Lounge
Beautiful Lodge & Club Facility - Gaming Area - Big screen TV - Pool Table - Shuffle Board available - Karaoke on Wednesday - Bingo on Thursday - Dinner & Dancing most Fridays - Lunch on Friday noon - 2 PM. See calendar for other special activities during the month.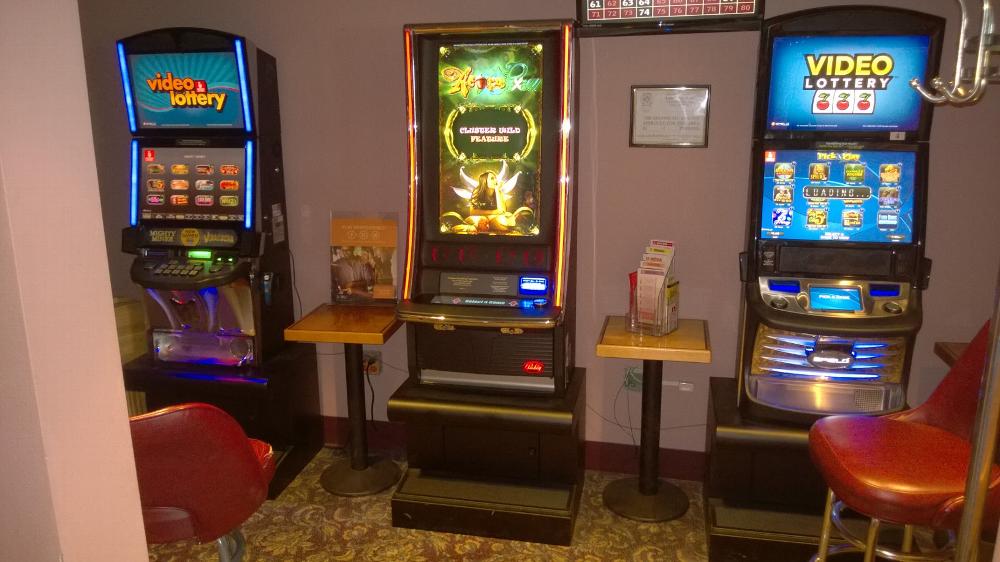 Video Gaming Machines
Enjoy all the latest games! Three video poker machines available.
Mt. Bachelor Room
Three Function Halls and One Meeting Room Available for Rent. The Mt. Bachelor room is over 1800SF plus the stage. In the past, these rooms have been rented for birthdays, anniversaries, weddings and wedding receptions, Christmas parties, meetings, memorial services, and other social events. Come take a look. For more information or to schedule a tour please contact the Club Manager at 541-382-1371 or 541-389-7438.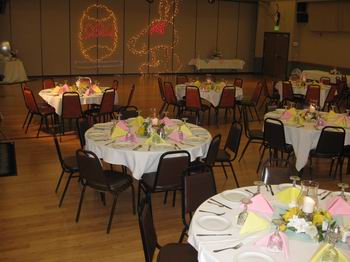 Dining & Dancing
Lunch Friday Noon - 2:00 PM in the Lounge. Our 1500SF dining room, the Mountain room, is also available for parties, meetings or other events. Dinner and Dancing every Friday night to live music. Dinner service available 5:30 - 8 PM. Dancing starts as 7 PM. Free dance lessons 6 - 7 PM. Check the calendar for other special dinner dance events.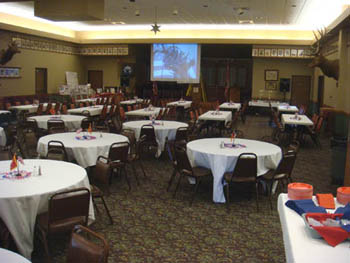 Three Sisters Room
This is the 1240SF Three Sisters room of the three rooms and can be combined with the Mt. Bachelor room and/or the Mountain room. All three of our rooms or any two adjoining can be combined to meet your floor-space needs.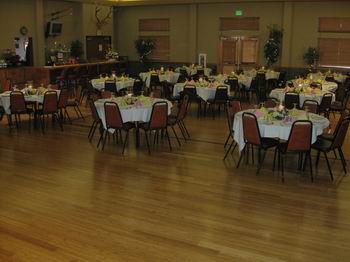 Mountain Room
The Mountain room, normally used for smaller dining events but can also be combined with Three Sisters room and Mt. Bachelor room for larger events with dining and dancing. The Mountain room has its own bar area.
---
Back to top