Lodge Facilities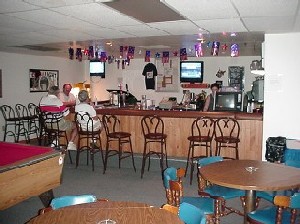 Elks Fraternal Lounge
Lounge and Bar is operated by the Elks and is open only to Elks and their Guests. Current Hours of Operation are M-F from 4:00 PM to 10:00 and Saturday from 3:00 PM - 11:00 PM.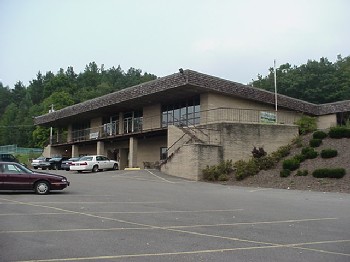 Our Lodge Exterior
Lower lodge exterior. Entrance to our Fraternal Lounge is located here as well as access to our BINGO hall.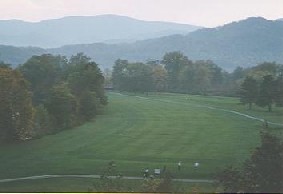 The BPOE 1135 Golf Course
Nestled amidst the majestic Allegheny Mountains and surrounded by the scenic Monongahela National Forest, the Elks Country Club offers an exhilarating game to the golf enthusiast. The only golf course in beautiful Randolph County, the Club has been owned and operated by the Elks Lodge #1135 since 1920. Although a private course, it is also open to the public, and visitors are welcome to try their skill on the links. This 9-hole course, situated on approximately 73 acres, competes admirably with the larger ones around the state. There are four sets of tees, a total yardage of 6,100 and the current course record is 63. The 15 sand traps appeal to any golfer, and holes 6 and 7 border the scenic Tygart River. The longer hitter will be tempted by some wide landing areas but the shotmaker will be rewarded by the well protected and often elevated greens. These features along with other recent improvements to the course will ensure an exciting golf experience for all skill levels. After an enjoyable round, you can relax on the shaded front porch of the clubhouse with a refreshment or venture across the road to the lodge for a sports bar atmosphere and food. Golf cart rentals are available if you prefer not to walk. The pro shop is open daily from April 1 through October 15. Located near the historic town of Elkins, a variety of convenient lodging options are available to visitors together with many interesting and fun excursions for non-golfers. The Elks staff will be pleased to provide recommendations upon request.
Course Record 63 by Henry Collett Yardage 6124 Par 72 (9 holes, two sets of tees) Main Course Features Course is very hilly Greens are on the small side, with lots of slope Most of the trouble is on the left side of the holes Par five's are all reachable in 2 by longer hitters Several blind shots. Rough is difficult Green Fees (18 Holes) Elks: $ 15.00 Non-Elks: $ 18.00 Weekdays; $19.00 Weekends and Hollidays
"Sunset Fee" after 6:00 PM
Elks: $ 10.00
Non-Elks: $12.00 Cart Rental(18 Holes) (9 Holes) $19.00 Single; $12.00 per person for two $12.00 Single; $7.50 per person for two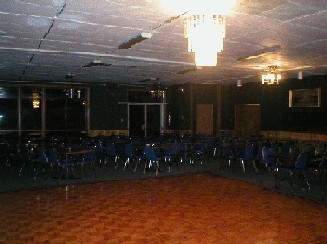 Our Ballroom
Our Upstairs ballroom has a very spacious area, which is perfect for gatherings of 300 or more.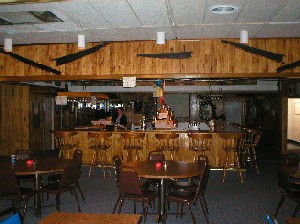 Upstairs Lounge Area
A facility that we are very proud of!
---
Back to top