Lodge Facilities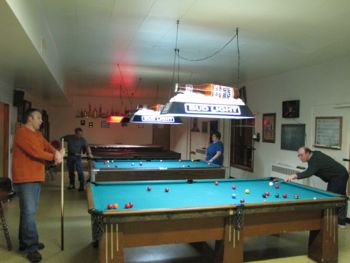 Bingo
We hold bingo every Thursday starting at 7:00 pm. - Doors open at 6:00 p.m.
Snack bar -refreshments available.
Sorry but no children under 8- children over 8 yrs old must play and be accompanied by an adult.
See Salida Elks Lodge # 808 Facebook page for updates on the Progressive Jackpot or the ad in The Mountain Mail on Thursdays
Club
Club hours: 4:00 p.m. to close Monday through Friday. Saturdays open at 2 pm.
****Sunday Closed Club will open for any Special Events!****
Game / Pool Room
Our club game room has pool tables, foosball, darts (steel tip) and a Wii. For all your gaming fun!
Pool League on Wed. nights at 7 p.m. for Elks and Guests-
Sunday Brunch
Breakfast - held on 2nd Sunday of the month 8:30-11:00 a.m. (ramp entrance downstairs)
$11 for adults- kids under 12 $6 - community style seating-everyone welcome! Meal includes coffee and juice and you pick from a menu the cashier will give you.
(net proceeds support lodge programs)
Veteran's Coffee
Second Saturday of the month at 10:00 a.m. All Veterans welcome!
You do not need to be an Elk member to come and visit at the Veterans Coffee
Friday Night Dinner
Friday night dinners are not always on the calendar call the lodge 719-539-6976 to check
---
Back to top