Lodge Facilities
Elk's Lounge
Open Sunday - Saturday 4:00pm. Friday Night dinners at 5:00 pm . Price for these dinners is $12.00 each. The last Friday of month is Prime Rib Night for $20.00 profits for Washington State Tall Elks Therapy program. Two of the pool tables have been moved to the Lounge and we have large screen TV's everywhere .
Elk's Ball room
This beautiful ball room is elegant. It can easily hold groups of 200+. Many wedding receptions and parties have been held in the historic room. Call Events Manager Julie Pearce at the Lodge for more information or you can email Julie at navalelksevents@gmail.com. A new added attraction to the Ballroom is a projection system that can be used for power point presentations or streaming favorite games and movies.
Elk's Board Room
Naval Lodge's Board of Directors and House Committee Meetings are held here the 2nd Thursday of each month at 7:00pm. This meeting room is suited for meetings up to 16 people.
Naval Elks Kitchen
This kitchen is suited for catering. It's a great facility to cook meals for large groups.
Front Office
Hours for the front office are Mondays and Saturdays closed. Tuesday through Friday 9:00am to 2:00pm
Pool & Card room
1 pool table
Card tables available for poker games
TV and VCR with video games, etc
Dining Room
The Dining room is rated for 75 People and provides an excellent venue for smaller groups for meetings or dinner.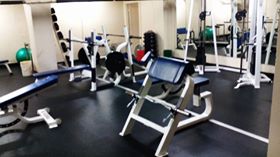 Elk's Athletic Facility
The basement athletic facility is a great bargain. $300 for family membership per year and $180 a year for single membership give's you access. New state of the art Treadmills, elipticals,stairmasters, free weights, machines, & a racquet ball court. Athletic facility hours are Monday thru Saturday - 5:00 am to 9:00 pm Sunday8:00am to 6:00 pm
Butler Lounge
This elegant lounge is suited for small gatherings of up to 50 people.
Lodge Meeting Room
Lodge Room is located on the Fourth Floor of our building. Lodge meetings are held first and third Thursdays of the month at 7:00 pm.
Building
Naval Elks is now offering the accessabilty to WiFi
---
Back to top