ELK'S CARE! - ELK'S SHARE! - BECOME AN ELK!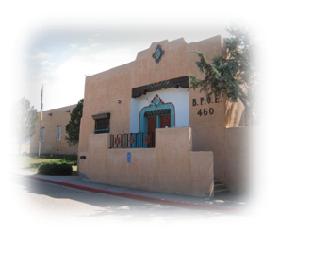 BIENVENIDOS!
Welcome to Lodge #460 in the beautiful "City Different" Santa Fe!
Santa Fe, New Mexico is our nation's oldest capital city! Rich in cultural heritage, Santa Fe is home to a diverse array of interests, attractions, events and locations. The City Different offers so much it's certain to appease all!
Stroll through our historic Plaza downtown and experience the ambience of our historic culture as you enjoy our wonderful weather and cuisine! Interested in art? Santa Fe is a renowned mecca of diversified art talent, galleries and displays. If history is your interest, you'll have over four hundred years of it right here in your hand. For the photography buffs you'll think you're in heaven! Skiing, kayaking, canoeing, hiking, biking and more, it's all right here in Santa Fe. If you're ready to tee it up we have seven local courses that will definitely challenge your handicap!
Don't forget to experience our entertainment venues! Spend the evening dancing to the sounds of our rich local talents! Enjoy everything from mariachi's to our renowned Santa Fe Opera. Start the day with the world's best breakfast burrito's and top it off with dinner at our fine local restaurants. Be prepared to answer the most popular question asked! Red or Green? Chile that can't be beat!
Come and experience Santa Fe! Make our Lodge your base of operation! Bienvenidos to Lodge #460!
ELK'S MEETINGS AT SANTA FE LODGE #460
First and Third Wednesday of the Month 7:00pm
VISITING ELK'S ARE WELCOME!