Lodge #322 Home

Latest News
From The Exalted Ruler
The first month of the 2019-2020 Elk year has flow by! We had a very full April, which included Initiating 12 new Members, having our Officers attend the first District Clinic in Solvang, the Everything Pink, again! Inaugural Ball, a wonderful sold out Easter event, closing the Lodge for half day for an All-Staff Meeting and finalizing the budget. Phew! that was a lot in a short 30 days!
With the help of our Facilities Manager, Dennis Adams, our Elk of all Trades, Rich Viar and our Historian, Shane Bagnall we are actively working on "Honoring our Past & Embracing our Future". A table from the original Lodge (dating back to 1895) was discovered, it is now being used as our Balloting Table during Lodge meetings and is awaiting restoration. And, our Memoriam podium, also from our original Lodge, was restored and used during the Everything Pink, again! Inaugural Ball to give a speech to the Membership.
One of my goals is to unite our Lodge even more. I would like to find a way connect and engage our youngest and oldest members and our rookie and veteran members. The Party Planning Committee is working diligently to resurrect some older events, freshen up some existing events and create some new events to help take us into the future. Committee Chairs are being filled (spots are still open if you are interested) and we are working on filling those Committees with Member volunteers (many opportunities available). A couple hours here and a couple hours there is all it takes.
The more Member involvement the more fun the experience at the Lodge. Our Volunteer Facilitator and I will be working close this year to connect Members with activities, events and meal crews where they have shown interest. Every month our volunteer hours and the number of Members involved have been growing. I would LOVE to see every Member volunteer the suggested 12 hours per year. Check signupgenius.com regularly or call the Office to see where you can help out.
Remember, this is your Lodge- take pride in it, obey the By-Laws and House Rules, help out where needed, lead by example, bus your table, watch your language, encourage attendance in Lodge meetings and volunteer in committees, activities and events. I look forward to a fun and active May! See you at SLO322!!
With Fidelity,
Teresa Lara, PER
Exalted Ruler
Safety Reminder
I look forward to an amazing year serving our Lodge as the Esteemed Lecturing Knight. After a rather wet winter, Spring has definitely sprung and Summer is on the way. The pool is open and a multitude of Lodge Activities are happening.
In the spirit of Brotherly Love, I would like to take this opportunity to remind you of a few items. First, let's all agree that safety is our number one concern. To ensure the health and safety of our Members and their guests, please refresh your memory of our House Rules. Remember that you as SLO Elks members have taken the Solemn & Binding Obligation at Initiation to obey the Statutes, Rules and Regulations of the Order and the By-Laws of SLO Elks Lodge 322. Part of this obligation is the duty to protect our Members, respect and defend the purity and sanctity of their homes and firesides. Let's apply this principle to our behavior in the Lodge and around the pool. Be on our best behavior.
Cyndee Lee Spence
Esteemed Lecturing Knight
Volunteers Needed
WE NEED VOLUNTEERS
!
We are a large Lodge, nearly 2,400 strong! When you become an Elk, it is suggested you offer 12 volunteer hours each year to any of the many events and causes where we give service. What you may not realize is that these hours are calculated and reported to the National Elks. And, with our volunteer hours, our Lodge is acknowledged and awarded opportunities to apply for a variety of grants and scholarships. The monies that are awarded are allocated in OUR community.
Please note that all activities needing volunteer support are available for you to view on SignUpGenius. We ask you to look at SignUpGenius in the months ahead as a means of securing an hour or two toward your yearly goal of 12 hours. After all, so much goodness awaits, when we embrace the benevolent aspect of our membership here at SLO322.
Elks Donor Program
Any age is the right age to share the gift of life. In your 50s, 60s, 70s, or older? You've already made a big difference in the world— but we still need your help. Regardless of your age or health status, you can save and improve lives by signing up as an organ, eye, and tissue donor. Join more than 100 million registered donors and sign up today.
Go to donatelife.net or organdonor.gov for more information.
Games are held on the 1st and 3rd Wednesdays of the month. Doors open at 5pm. Earlybirds start at 6pm. Bring a friend or family member!
(Dates subject to change please check the monthly calendar.)
Subscribe to the Elks Calendar on your Smartphone
You can now subscribe to the Elks #322 calendar with your smartphone. Follow the instructions below to get started.
Calendar Subscription Link: https://goo.gl/gT8HtK
iPhone Instructions
Copy the Calendar Subscription Link above.
Tap on the Settings icon from the iPhone's home screen.
Tap on Mail, Contacts, Calendars from the list of device settings.
Tap the Add Account button and select Other in the list of account types.
Choose the Add Subscribed Calendar option at the bottom of the screen.
Enter the Calendar Subscription link above in the Server field. Tap the Next button.
Enter a custom description for the calendar and tap Next once more to finish adding it to your iPhone.
Android/Google Instructions
Copy the Calendar Subscription Link above.
Log into your Google Calendar account in a web browser and click the down-arrow next to Other calendars.
Select Add by URL from the menu.
Enter the paste the Calendar Subscription link in the field provided.
Click the Add Calendar button. The calendar will appear in the Other Calendars section of the calendar list to the left.
The new calendar will now be synced to your Android phone
Elks YELL & Calendar

About the Lodge
We are open daily from 10am until 10pm.
(805) 543-0322
Lodge 322 meetings are held on the first and third Tuesdays @ 7:00 PM
Please check our News page for the latest happenings at Lodge 322.
Wireless Internet Available
You can now bring your personal computer into the lodge to check your emails or google any information you may need all while dining, enjoying a libation or visiting Lodge 322.
Elks RV Storage
Our brand new SLO RV storage facility is open to ALL Elks Members as well as the general public! Rent your spot now! Call (805) 543-0322. Elks Lodge #322 offers a clean, safe and secure location for RV & Boat Storage. This is a popular service with a current 2-year wait list so reserve your spot in our SLO RV Storage Facility for your recreational vehicles today.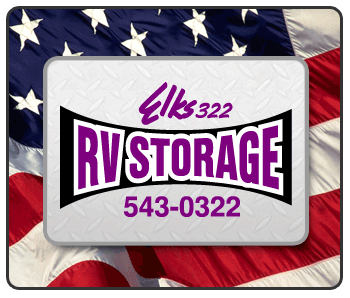 ---
About San Luis Obispo
San Luis Obispo (Spanish for St. Louis, the Bishop of Toulouse) is located roughly midway between Los Angeles and San Francisco on the Central Coast of California. Founded in 1772 by Spanish Fr. Junípero Serra, San Luis Obispo is one of California's oldest communities. The city, locally referred to as San Luis or SLO is the county seat of San Luis Obispo County and is adjacent to California Polytechnic State University.
---
Back to top