Lodge #322 Home

Latest News
Pool Rules
Summertime is right around the corner and as the weather heats up, the pool gets an increase of traffic. Please familiarize yourself with the Pool Rules & help with FRIENDLY enforcement.
Persons use the pool at their own risk.
The pool is for the use of Elks, their Families and a reasonable number of guests.
Pool will be closed during Lodge Sessions. (Every first and third Tuesday of the month at 7:00 pm.)
No running or boisterous play in pool areas.
Glass bottles, glasses or jars are NOT permitted in the pool area.
Children under the age of 18 MUST be supervised by a member or spouse at all times.
Bathing attire is not allowed in the clubhouse and will be strictly enforced.
The management shall not be responsible for lost or stolen articles.
Visiting Elks and their families may use the pool.
Children under the age 3 MAY NOT USE the main pool under any conditions. No child, no matter what their age, may use the main pool under any circumstances if they use a swim diaper.
Children who are not toilet trained MUST wear swim diapers.
Only small pool toys are allowed in the pool area.
Animals are not allowed within the pool enclosure, with the exception of service animals.
All persons including members, spouses, family and guests utilizing the pool must register the names of all the users in the registration book at the entrance each and every visit upon entering the pool area.
NO CHILDREN UNDER 18 YEARS OLD ARE ALLOWED IN THE JACUZZI OR THE STEAM ROOM
These rules will be enforced and members causing infractions will be notified. Please, don't spoil the fun by abusing your Lodge privileges. Let's have fun and stay safe!
From The Exalted Ruler
On June 29th I got on an early flight to head to St. Louis, Missouri for the Annual Grand Lodge National Convention! I am very proud to represent SLO322 and look forward to bringing back information!! I return the afternoon of the 3rd and you can find me on the morning of the 4th on the pool deck running the Annual PER 4th of July Pool Party! It's definitely a whirl wind and I look forward to all of it!
We had some wonderful volunteerism in June. The Lodge Officers joined me poolside with our Scouts to educated members about the History of our Flag at our Flag Day Event/Ceremony. Our 4-year Trustee Deena Dana brought back Father's Day at our Lodge with a Cornhole Tournament, prizes and a special menu at Poolside Grill! The event was a success, our dads were happy and I am thankful to everyone who helped out in order to make it happen. The last week of June we had the opportunity to showcase our Lodge during a Visitation from our Association Vice President David Martin. Many of our Committee Members showed up to give reports and we enjoyed a super delicious dinner afterward- a big thank you to Facilities Manager Dennis Adams and his crew for always making SLO322 shine.
July and August mean continued busy time at SLO322. Our RV camping spots have been really full and we have a lot of visiting members to our Lodge. Please remember to welcome them in, give them a tour and educate about our House Rules and Pool Rules if necessary. Continue to watch out for each other, care for our Lodge, bus your tables and keep guests to a reasonable number. Keep an eye on SignUp Genius and our NEW BULLETIN BOARDS at the Lodge entrances for Volunteer Opportunities!
With Fidelity,
Teresa Lara, PER
Exalted Ruler
Volunteer
As SLO322 members, we all took the oath at our Initiation and part of our Obligation is to commit at least 12 hours of volunteer service per year. That can be one hour a month or several hours at a few events. If we multiply 12 hours times 2,300 members that equates to 27,600 hours each year or the equivalent of 26.5 part-time employees!
Summer is our busiest time of year, so please utilize your skills and talents to help out around the lodge. If you don't' know what you can do, please ask! We are starting a new group for people who like to clean and fix things up around the Lodge. We want to help our facilities stay clean and organized. We have some Boy Scouts who like projects and some retired individuals that like fixing things. There are also some of us who work out their frustrations by cleaning things! (It really can be therapeutic!) A couple of really nice ladies have already volunteered to clean the ladies pool house, locker rooms and bathrooms (Thank you - Volunteer of the month – Gail Crawford) So please sign up using SignUp Genius or by calling the Lodge or by just jumping in where you see a need!
Cyndee Lee Spence
Esteemed Lecturing Knight
Boy Scouts of America - Girls Troop Formation
The Cuesta District Boy Scouts of America is calling all young ladies, 11-18 years of age to form a new BSA troop for Girls in San Luis Obispo. The district is inviting you and your parents to the Troop Organizational Meeting on July 11 at 7pm at the Elks Lodge #322 (222 Elks Lane San Luis Obispo, CA 93401).
Volunteers Needed
WE NEED VOLUNTEERS
!
We are a large Lodge, nearly 2,400 strong! When you become an Elk, it is suggested you offer 12 volunteer hours each year to any of the many events and causes where we give service. What you may not realize is that these hours are calculated and reported to the National Elks. And, with our volunteer hours, our Lodge is acknowledged and awarded opportunities to apply for a variety of grants and scholarships. The monies that are awarded are allocated in OUR community.
Please note that all activities needing volunteer support are available for you to view on SignUpGenius. We ask you to look at SignUpGenius in the months ahead as a means of securing an hour or two toward your yearly goal of 12 hours. After all, so much goodness awaits, when we embrace the benevolent aspect of our membership here at SLO322.
Elks Donor Program
Any age is the right age to share the gift of life. In your 50s, 60s, 70s, or older? You've already made a big difference in the world— but we still need your help. Regardless of your age or health status, you can save and improve lives by signing up as an organ, eye, and tissue donor. Join more than 100 million registered donors and sign up today.
Go to donatelife.net or organdonor.gov for more information.
Games are held on the 1st and 3rd Wednesdays of the month. Doors open at 5pm. Earlybirds start at 6pm. Bring a friend or family member!
(Dates subject to change please check the monthly calendar.)
Subscribe to the Elks Calendar on your Smartphone
You can now subscribe to the Elks #322 calendar with your smartphone. Follow the instructions below to get started.
Calendar Subscription Link: https://goo.gl/gT8HtK
iPhone Instructions
Copy the Calendar Subscription Link above.
Tap on the Settings icon from the iPhone's home screen.
Tap on Mail, Contacts, Calendars from the list of device settings.
Tap the Add Account button and select Other in the list of account types.
Choose the Add Subscribed Calendar option at the bottom of the screen.
Enter the Calendar Subscription link above in the Server field. Tap the Next button.
Enter a custom description for the calendar and tap Next once more to finish adding it to your iPhone.
Android/Google Instructions
Copy the Calendar Subscription Link above.
Log into your Google Calendar account in a web browser and click the down-arrow next to Other calendars.
Select Add by URL from the menu.
Enter the paste the Calendar Subscription link in the field provided.
Click the Add Calendar button. The calendar will appear in the Other Calendars section of the calendar list to the left.
The new calendar will now be synced to your Android phone
Elks YELL & Calendar

About the Lodge
We are open daily from 10am until 10pm.
(805) 543-0322
Lodge 322 meetings are held on the first and third Tuesdays @ 7:00 PM
Please check our News page for the latest happenings at Lodge 322.
Wireless Internet Available
You can now bring your personal computer into the lodge to check your emails or google any information you may need all while dining, enjoying a libation or visiting Lodge 322.
Elks RV Storage
Our brand new SLO RV storage facility is open to ALL Elks Members as well as the general public! Rent your spot now! Call (805) 543-0322. Elks Lodge #322 offers a clean, safe and secure location for RV & Boat Storage. This is a popular service with a current 2-year wait list so reserve your spot in our SLO RV Storage Facility for your recreational vehicles today.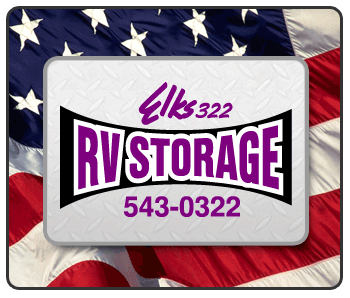 ---
About San Luis Obispo
San Luis Obispo (Spanish for St. Louis, the Bishop of Toulouse) is located roughly midway between Los Angeles and San Francisco on the Central Coast of California. Founded in 1772 by Spanish Fr. Junípero Serra, San Luis Obispo is one of California's oldest communities. The city, locally referred to as San Luis or SLO is the county seat of San Luis Obispo County and is adjacent to California Polytechnic State University.
---
Back to top