Lodge #322 Home

Latest News
From The Exalted Ruler
April is a wonderful month- it is the beginning of Spring and the beginning of the new Elks Year! Thank you for electing me as your Exalted Ruler, (once again)! I am pumped about serving our Lodge for a second term while "Honoring our Past & Embracing our Future". I look forward to volunteering with the Officers both new and returning and getting Members more informed and involved by working closely with the Staff, the House Committee, the Board of Directors and the Committee Chairs.
We have a quite a year ahead of us as we will be celebrating our 125th Anniversary! We are the 7th oldest Lodge out of 168 Lodges in the California-Hawaii Elks Association (CHEA) and we are the Mother Lodge out of 12 Lodges in the West Central Coast District (WCCD). This year is a huge, big deal and I see many celebrations in store for us!
We are a very unique Lodge between the average age of our Membership (which is low), the amenities we offer, the regular 12 hours days that we are open, and the fact that we are family-friendly. The Lodge is so much fun when the Members are volunteering and the building is FULL- everyone enjoys the positive energy.
As the weather warms up Member foot traffic will increase and it will bring more visiting Elk brothers and sisters to our Lodge. Spark up a conversation with a stranger, welcome them to SLO322 and help to educate, inform, and guide our new and returning members with Brotherly Love. Lead by example- attend Orientation and Initiation with your incoming candidate, bus your table, watch your language, encourage attendance in Lodge meetings and volunteer in committees, activities and events.
It takes a village to raise a child and its takes a wide array of volunteers to make a Lodge flourish. Members stepping up, taking ownership of their Lodge and enjoying themselves while doing it makes for a wonderful experience. I would love every Member to volunteer and give the suggested 12 hours a year back to our Lodge.
I hope to see a FULL HOUSE on April 13th at the Everything Pink, again! Party. And, I will definitely see you around the Lodge!
With Fidelity,
Teresa Lara, PER
Pool House Committee
The March meeting of the Pool House Committee was held on March 14th. The Committee has enlisted Lodge Member Ron Giovannelli to develop a "Request for Proposal" to be utilized with prospective architects/developers. This will be a lengthy but rewarding project for our Lodge. Involvement and support for this much needed upgrade, which will basically be a brand new Pool House, is critical and we are on the first of many phases. A new email address has been created to allow members to submit any ideas to further this endeavor. Be looking for calendar events to help us make this a successful project! Your ideas can be submitted to PoolHouseCommittee@gmail.com.
The next meeting, open to all Member guests will be held on April 11th at 5:30 pm in the Grazier Room.
Thank You from the Volunteer Coordinator
Faith and Begorrah! By the time you read this, the incredible energy shared at the St. Paddy's Day shindig will likely be settling. However, the residue of an amazing month of events and volunteer participation will not. Between the middle of February and March, SLO322 was a'buzz with new events, renewed events, and all sorts of late winter joy. Along with monthly and much appreciated dinner crews, Orientation and Initiation volunteers, bingo and such, this month brought us a celebratory dinner for our Hoop and Soccer Shoot participants and their families. We also had a fantastic Mother & Daughter Tea that was a smashing success, as well as a St. Paddy's Day Sunday that was well attended. Whether Irish or not, word on the Lodge floor is that the food and festivities were a hit.
Of note, a few newer Committees welcome input from all Members. Our dues officially increase this next year. Attend the Pool House Committee, meeting the second Thursday of each month. Come and offer input in what promises to be a detailed process, requiring ideas and energy from an array of sources. In addition, the Party Planning Committee is in full swing this next Elks year. Keep tabs on the upcoming celebratory events you may wish to help facilitate. Two annual spring brunches are in the works of course, Easter on April 21st and Mother's Day on May 12th. And finally, Poolside Grill time is just around the corner! Keep an eye out for SignUp Genius opportunities to volunteer.
Please know, from this desk, how very much appreciated each and every Volunteer is to all of us working to provide a healthy atmosphere here at SLO322. When we roll up our sleeves, when we raise our hand in an offer of assistance, when we commit to engaging in the goings on around us, we make the world a smaller, friendlier, healthier place. Here's hoping the months and Elk year ahead are filled the joy and affirmation of volunteer service. Heartfelt thanks to all of these Elks and their family members who gave their time and energy to our Lodge this last month…and to any and all I may have overlooked.
Cheers! Happy Spring!
This was an excellent month!! Thank you!
Kathy Devaney
Volunteers Needed
WE NEED VOLUNTEERS
!
We are a large Lodge, nearly 2,400 strong! When you become an Elk, it is suggested you offer 12 volunteer hours each year to any of the many events and causes where we give service. What you may not realize is that these hours are calculated and reported to the National Elks. And, with our volunteer hours, our Lodge is acknowledged and awarded opportunities to apply for a variety of grants and scholarships. The monies that are awarded are allocated in OUR community.
Please note that all activities needing volunteer support are available for you to view on SignUpGenius. We ask you to look at SignUpGenius in the months ahead as a means of securing an hour or two toward your yearly goal of 12 hours. After all, so much goodness awaits, when we embrace the benevolent aspect of our membership here at SLO322.
Elks Donor Program
Any age is the right age to share the gift of life. In your 50s, 60s, 70s, or older? You've already made a big difference in the world— but we still need your help. Regardless of your age or health status, you can save and improve lives by signing up as an organ, eye, and tissue donor. Join more than 100 million registered donors and sign up today.
Go to donatelife.net or organdonor.gov for more information.
Games are held on the 1st and 3rd Wednesdays of the month. Doors open at 5pm. Earlybirds start at 6pm. Bring a friend or family member!
(Dates subject to change please check the monthly calendar.)
Subscribe to the Elks Calendar on your Smartphone
You can now subscribe to the Elks #322 calendar with your smartphone. Follow the instructions below to get started.
Calendar Subscription Link: https://goo.gl/gT8HtK
iPhone Instructions
Copy the Calendar Subscription Link above.
Tap on the Settings icon from the iPhone's home screen.
Tap on Mail, Contacts, Calendars from the list of device settings.
Tap the Add Account button and select Other in the list of account types.
Choose the Add Subscribed Calendar option at the bottom of the screen.
Enter the Calendar Subscription link above in the Server field. Tap the Next button.
Enter a custom description for the calendar and tap Next once more to finish adding it to your iPhone.
Android/Google Instructions
Copy the Calendar Subscription Link above.
Log into your Google Calendar account in a web browser and click the down-arrow next to Other calendars.
Select Add by URL from the menu.
Enter the paste the Calendar Subscription link in the field provided.
Click the Add Calendar button. The calendar will appear in the Other Calendars section of the calendar list to the left.
The new calendar will now be synced to your Android phone
Elks YELL & Calendar

About the Lodge
We are open daily from 10am until 10pm.
(805) 543-0322
Lodge 322 meetings are held on the first and third Tuesdays @ 7:00 PM
Please check our News page for the latest happenings at Lodge 322.
Wireless Internet Available
You can now bring your personal computer into the lodge to check your emails or google any information you may need all while dining, enjoying a libation or visiting Lodge 322.
Elks RV Storage
Our brand new SLO RV storage facility is open to ALL Elks Members as well as the general public! Rent your spot now! Call (805) 543-0322. Elks Lodge #322 offers a clean, safe and secure location for RV & Boat Storage. This is a popular service with a current 2-year wait list so reserve your spot in our SLO RV Storage Facility for your recreational vehicles today.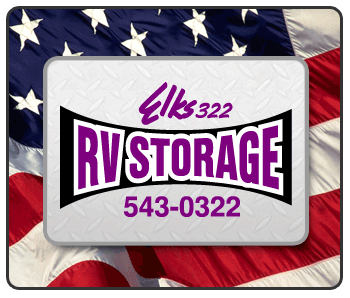 ---
About San Luis Obispo
San Luis Obispo (Spanish for St. Louis, the Bishop of Toulouse) is located roughly midway between Los Angeles and San Francisco on the Central Coast of California. Founded in 1772 by Spanish Fr. Junípero Serra, San Luis Obispo is one of California's oldest communities. The city, locally referred to as San Luis or SLO is the county seat of San Luis Obispo County and is adjacent to California Polytechnic State University.
---
Back to top