Lodge #322 Home

Latest News
From the Exalted Ruler
In what feels like the blink of an eye the Holiday Season is upon us and 2019 is coming to an end! Thanksgiving provides a time to be thankful and eat lots of good food, Christmas provides a time to spread love, be with loved ones and to give to those in need, and New Year's Eve provides a time to reflect on the previous year, make resolutions and grow into the new year! At SLO322 we are looking forward to the next few weeks- busy weeks.
On Sunday, December 1st at 2:00 pm the Lodge Officers will be honoring all of the members who passed away in the last year during our Annual Memorial Ceremony, on Tuesday, December 3rd we will be hosting a dinner for our District Deputy Grand Exalted Ruler Jay Dupler and his First Lady Kristi at 6:00 pm, on Saturday, December 14th we will be hosting our FIRST EVER Holiday Cocktail Party where we will have light appetizers and tasty libations from 5:00 - 7:00 pm and on Sunday, December 15th Santa will be visiting the Lodge from 1:00 - 3:00 pm and all the kiddos of SLO322 can partake in a craft and enjoy holiday snacks.
Make sure to keep an eye on the Lodge Calendar this month as the Wings Crew and the Tri-Tip Sandwich Crew have decided to continue their Monday night dinners. The CYOS Crew, Orientation Crew and Chef Randi (Chef's Choice) will also continue their Friday night dinners. With Christmas landing on a Wednesday this year, the kitchen will be closed the entire week. And, lastly remember to join your fellow members on New Year's Day for our Annual Potluck!
In the last 31 days of the year, remember to BE PRESENT, WRAP SOMEONE IN A HUG, SEND LOVE, DONATE FOOD, MAKE MEMORIES AND BE THE LIGHT. Enjoy your holidays, stay safe and spread love. See you at SLO322!!!!
With Fidelity,
Teresa Lara, PER
Exalted Ruler
Volunteers Needed
WE NEED VOLUNTEERS
!
We are a large Lodge, nearly 2,400 strong! When you become an Elk, it is suggested you offer 12 volunteer hours each year to any of the many events and causes where we give service. What you may not realize is that these hours are calculated and reported to the National Elks. And, with our volunteer hours, our Lodge is acknowledged and awarded opportunities to apply for a variety of grants and scholarships. The monies that are awarded are allocated in OUR community.
Please note that all activities needing volunteer support are available for you to view on SignUpGenius. We ask you to look at SignUpGenius in the months ahead as a means of securing an hour or two toward your yearly goal of 12 hours. After all, so much goodness awaits, when we embrace the benevolent aspect of our membership here at SLO322.
Elks Donor Program
Any age is the right age to share the gift of life. In your 50s, 60s, 70s, or older? You've already made a big difference in the world— but we still need your help. Regardless of your age or health status, you can save and improve lives by signing up as an organ, eye, and tissue donor. Join more than 100 million registered donors and sign up today.
Go to donatelife.net or organdonor.gov for more information.
Games are held on the 1st and 3rd Wednesdays of the month. Doors open at 5pm. Earlybirds start at 6pm. Bring a friend or family member!
(Dates subject to change please check the monthly calendar.)
Subscribe to the Elks Calendar on your Smartphone
You can now subscribe to the Elks #322 calendar with your smartphone. Follow the instructions below to get started.
Calendar Subscription Link: https://goo.gl/gT8HtK
iPhone Instructions
Copy the Calendar Subscription Link above.
Tap on the Settings icon from the iPhone's home screen.
Tap on Mail, Contacts, Calendars from the list of device settings.
Tap the Add Account button and select Other in the list of account types.
Choose the Add Subscribed Calendar option at the bottom of the screen.
Enter the Calendar Subscription link above in the Server field. Tap the Next button.
Enter a custom description for the calendar and tap Next once more to finish adding it to your iPhone.
Android/Google Instructions
Copy the Calendar Subscription Link above.
Log into your Google Calendar account in a web browser and click the down-arrow next to Other calendars.
Select Add by URL from the menu.
Enter the paste the Calendar Subscription link in the field provided.
Click the Add Calendar button. The calendar will appear in the Other Calendars section of the calendar list to the left.
The new calendar will now be synced to your Android phone
Elks YELL & Calendar

About the Lodge
We are open daily from 10am until 10pm.
(805) 543-0322
Lodge 322 meetings are held on the first and third Tuesdays @ 7:00 PM
Please check our News page for the latest happenings at Lodge 322.
Wireless Internet Available
You can now bring your personal computer into the lodge to check your emails or google any information you may need all while dining, enjoying a libation or visiting Lodge 322.
Elks RV Storage
Our brand new SLO RV storage facility is open to ALL Elks Members as well as the general public! Rent your spot now! Call (805) 543-0322. Elks Lodge #322 offers a clean, safe and secure location for RV & Boat Storage. This is a popular service with a current 2-year wait list so reserve your spot in our SLO RV Storage Facility for your recreational vehicles today.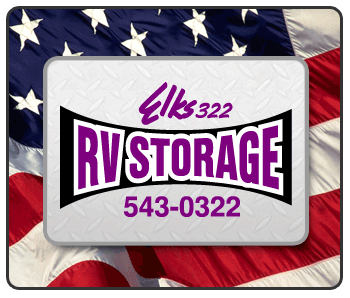 ---
About San Luis Obispo
San Luis Obispo (Spanish for St. Louis, the Bishop of Toulouse) is located roughly midway between Los Angeles and San Francisco on the Central Coast of California. Founded in 1772 by Spanish Fr. Junípero Serra, San Luis Obispo is one of California's oldest communities. The city, locally referred to as San Luis or SLO is the county seat of San Luis Obispo County and is adjacent to California Polytechnic State University.
---
Back to top