Lodge #501 Home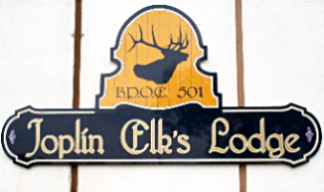 Welcome February! Now starts the "watch" for the first crocus in the yard. (The arrival of crocuses means more to me than the Groundhog seeing his Shadow--or not.) There are a lot of activities going on this month. We hope you will join us on February 16 as we celebrate 150 years of Elkdom! This is a very important anniversary for the BPOE, and we have a special evening planned for all! Nomination of officers is on February 8, with Election on February 22. There is also a special vote for the membership of the Lodge on February 8. (See the article in the February ECHO for more details.) Our annual PER night initiation will be on February 22; this is an impressive ceremony, with many of our Past Exalted Rulers brushing off their tuxedoes to assist in the initiatory work. There is something for everyone at the Lodge this month! See the February ECHO under the News tab for all the details.
Joplin Elks Lodge 501 is located at 1802 West 26th, in Joplin, Missouri. Lodge 501 was founded in 1899 and enjoys a heritage that is steeped with the best of Elk Traditions. Nestled in the Heart of the Ozarks in SouthWest Missouri, Joplin has a population of 46,000. The population within a 40 mile radius of Joplin is 400,000, making it Missouri's 4th largest metropolitan area.
We invite all guests of the web site to sign our guest book and please feel free to let us know how we are doing. Meetings are the second and fourth Thursdays of each month, and begin at 7pm.

Lodge Directions: 1802 W 26th Street Joplin MO
Lodge hours: 11am - 7pm (Saturday-Sunday-Monday-Tuesday); 11am - 10pm Wednesday-Thursday-Friday. Check the Lodge newsletter for events which may change the closing time.
---
Back to top