Lodge #501 Home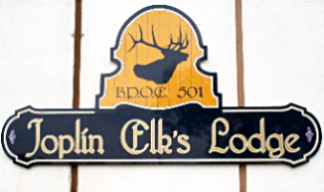 Wow! Where has the year gone? Sooner than you realize, it will be 2019. But before we bid "adieu" to 2018, there are several events planned at your lodge. We will stock Christmas baskets with nonperishable items on Friday evening, December 21, with distribution on Saturday, December 22. Plan to come out and participate; this is the premier charity project for our Lodge, and will help remind you that Christmas is more about "giving" than "receiving". This project is the exemplification of "Elks Care, Elks Share"! Tickets are available for the Lodge New Years Eve "soiree"; see your friendly bar staff in the lounge. And plan to start your 2019 with traditional black-eyed peas and cornbread on January 1 at the Lodge! See the December ECHO under the News tab for all the details.
Joplin Elks Lodge 501 is located at 1802 West 26th, in Joplin, Missouri. Lodge 501 was founded in 1899 and enjoys a heritage that is steeped with the best of Elk Traditions. Nestled in the Heart of the Ozarks in SouthWest Missouri, Joplin has a population of 46,000. The population within a 40 mile radius of Joplin is 400,000, making it Missouri's 4th largest metropolitan area. (Please note that the pictures on this site are of our Lodge which was destroyed in the tornado on May 22, 2011. They remain here as a testimony of our commitment to our absent brothers lost on that day.)
We invite all guests of the web site to sign our guest book and please feel free to let us know how we are doing. Meetings are the second and fourth Thursdays of each month, and begin at 7pm.

Lodge Directions: 1802 W 26th Street Joplin MO
Lodge hours: 11am - 7pm (Saturday-Sunday-Monday-Tuesday); 11am - 10pm Wednesday-Thursday-Friday. Check the Lodge newsletter for events which may change the closing time.
---
Back to top