Chico Lodge #423
1705 Manzanita Ave
Chico, CA 95926
(530) 343-1431
---
Upcoming Events:
Online tickets for 125th Anniversary Gala Dinner @ $35







Lodge Meetings
Our Lodge meets on the 2nd & 4th Wednesdays. We would be honored to have you come in and tour the facility or just take a load off when passing through our neighborhood.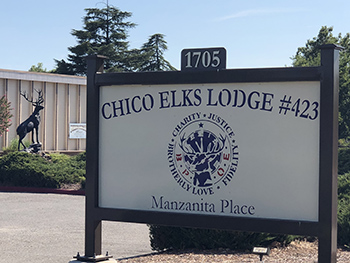 Location
The Chico Elks Lodge #423 is located at 1705 Manzanita Avenue in Chico California. Our Lodge facilities include an outdoor picnic pavilion with bar-b-ques, volleyball, horseshoes and restroom facilities. We have a 16 Space RV Park with hook-ups, space available for Elks Members Only. Plenty of on site parking.
Lodge Dinners Tuesday through Thursday, and small plates offered on Friday without reservation. Please call for dinner reservations at (530) 343-1431.
Our Mission
To inculcate the principles of Charity, Justice, Brotherly Love and Fidelity; to recognize a belief in God; to promote the welfare and enhance the happiness of its Members; to quicken the spirit of American patriotism; to cultivate good fellowship; to perpetuate itself as a fraternal organization, and to provide for its government, the Benevolent and Protective Order of Elks of the United States of America will serve the people and communities through benevolent programs, demonstrating that Elks Care and Elks Share.
Who are Elks?
Elks are American citizens who enjoy living life by the golden rule and contributing to the lives and well-being of those around them. We guide ourselves through life with strong morals and a great love of our fellow man, always adhering to the founding principals of our order; Charity, Justice, Brotherly Love and Fidelity.
What is Elkdom?
Membership
The works of the Benevolent and Protective Order of Elks are well known throughout the United States. Organized on February 16,1886, the Elks are the largest American Benevolent Organization in the United States and its Territories.
Online Application
If you are already a member and would like to recommend an upstanding American citizen for membership please visit the Elks.org website Online Membership Application to invite a friend to join!
Service to Country and Community
The Order of Elks is dedicated to Service to our communities and our Country. The Order of Elks is a Charitable Order and is dedicated to helping those who are less fortunate and in need. The Order of Elks is dedicated to the youth of our communities, Veterans Services, furtherance of Americanism and many other Benevolent activities. Upon attaining membership in our Order, you will become part of a National Organization, with a membership of well over a million American Citizens, from every prominent city of our Country, who are respected Citizens in their communities and are proud to say that they belong to the Benevolent and Protective Order of Elks of the United States of America. If you live in the Chico California area and are interested in becoming a member of the Chico Elks Lodge #423 please visit the Contact-Us page and give us a call or send us a message and we will be glad to provide more information and a Membership Application to you. If you do not live in the Chico California area it is very likely that there is an Elks Lodge near you that would appreciate your membership. Please visit the http://www.elks.org/lodges/ to find the Elks Lodge near you.
Weekly Dinners at the Lodge (Tuesday thru Thursday) and Small Plates for TGIF and Live Music
Weekly Dinners are for any Elks Lodge Member and their signed in guests unless otherwise noted

Reservations are required, please call (530) 343-1431. Reservation window is Mon-Thurs 9am to 2pm.

Reservations must be in by 2PM the previous afternoon for Wed/Thurs dinners

Reservations are not required for Tuesday/Friday Dinners, stop by and small plates are made upon order
Charlie Carroll Members Only Lounge
Lounge hours:
Monday - Wednesday 3pm to 8pm

Thursday 3pm to 9pm

Friday 3pm to 10pm

Saturday Noon to 6pm

Sunday 10am to 6pm
• Wednesday/Thursday Dinner RSVPs must be made by 2:00 pm the day before by calling 530-343-1431.
• No RSVP needed for Tuesday and Friday.