Lodge #2605 Home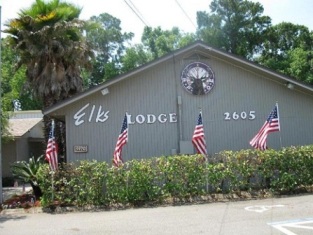 We would like to welcome you to our Lodge. Hope you have a good visit with us and come back again.
The lodge hours are as follows: Monday- closed, Tuesday- closed, Wednesday- 4:00 P.M. to 10:00 P.M., Thursday- 4:00 P.M. to 10:00 P.M., Friday 4:00 P.M. to 11:00 P.M., Saturday 4:00 P.M. to 11:00 P.M., Sunday 1:00 P.M to 8:00 P.M.
Lodge Meetings are the SECOND and FOURTH Wednesdays of each month at 7:00 P.M.

We have plenty of RV parking for the traveling Elks. Hook-ups for water and electric with newly upgraded 50amp, 30amp and 110 service are available at each station. A dump station is located on the lodge property along side the building adjacent to the RV lot. RV lot is suggested donation of $20 per night, and forms and envelopes are located on the side of the building, and there is an after hours slot in the lodge door for payments, we accept checks, cash, and credit card payments at the bar or by phone. We are convientently located two blocks off I-295 S, only one block off Blanding Blvd. No reservations are necessary, in the event you pull in and our full service RV spaces are full we have a large lot with room for "dry camping". We also have WiFi available in the RV area!

On behalf of the entire Lodge we look forward to seeing YOU!

Please Support our Troops and Pray for them.



---
Back to top