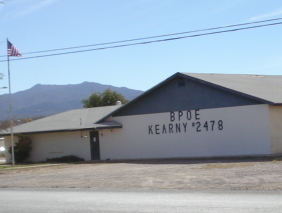 Lodge Meetings are on the 3rd Tuesday of the month at 7:00 PM. In the months of February, March and April, the lodge meetings are on the 1st Tuesday and the 3rd Tuesday
Club Hours: 5 p.m. on Monday, Wednesday, Friday and Sunday.
Physical Address: 401 Veterans Ave, Kearny AZ 85137
Mailing Address: PO Box 610, Kearny, AZ 85137

KEARNY IS JUST 75 MILES FROM PHOENIX WITH BEAUTIFUL VIEWS OF THE GILA RIVER VALLEY AND TORTILLA MOUNTAINS.
JUST 8 MILES OUTSIDE OF KEARNY STOP AND VIEW THE HUGE RAY OPEN PIT COPPER MINE ON HIGHWAY 177.

COME VISIT THE SMALLEST LODGE IN ARIZONA THAT HAS A JAIL CELL!

From Phoenix, head East on US 60; at Superior turn off US 60 at AZ Highway 177 and head South for 22 miles to KEARNY.