Lodge #2478 Home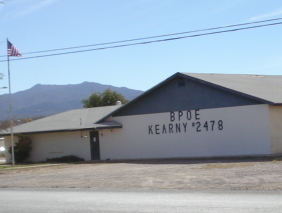 Meeting on the 1st and 3rd Tuesday's at 7:00 PM Physical Address: 401 Veterans Ave, Kearny AZ 85137 Mailing Address: PO Box 610, Kearny, AZ 85137

Lodge open 5:00 p.m. daily on Sunday, Monday, Wednesday and Friday

COME VISIT THE SMALLEST LODGE IN ARIZONA THAT HAS A JAIL CELL!

ABOUT 60 MILES FROM PHOENIX WITH A BEAUTIFUL VIEW OF THE OPEN PIT COPPER MINE.

ONLY 22 MILES FROM THE SUPERIOR. TURN OFF HIGHWAY 60 AND FOLLOW HIGHWAY 177 TO KEARNY.
---
Back to top