Lodge #2425 Home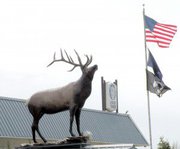 Regular Lodge Meetings First and Third Thursday of the month 205 Barnacle Way Kenai, AK 99611 at 7PM

Lounge Hours Monday through Saturday 3pm until...
Dining Room open for dinners:
Tuesday Burger Night 5:30-7:00PM
Thursday Meeting Nights 5:30-6:45PM
Steak Night Fridays 5:30-7:30PM
Visit us on Facebook at Kenai Elks Lodge #2425 for current events.

Contact Information (907)283-7776 or kenaielks@alaska.net.
---
Back to top