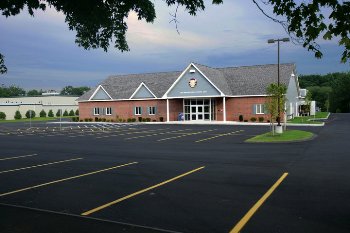 Come down and check us out! Special thanks go out to the Members Of Chelmsford Lodge Of Elks #2310 for all of your support. Disaster occurred in November, 2003! During the late night hours a fire broke out that completely devoured and decimated the Chelmsford Elks' building located at 300 Littleton Rd. Through hard work, diligence, and perseverance, we are finally ready and have officially opened our brand new building. The Spirit of ELKDOM is alive and well and we are once again making contributions to the community.

Slide Show of our new Lodge:
The New Chelmsford Lodge of Elks # 2310
---
Grille Room Hours
Monday - Thursday
4:00 PM - 10:00 PM
Friday
2:00 PM - 10:00 PM
Saturday - Sunday
12:00 PM - 8:00 PM
** Depending on the member activity the lodge may be open later than the above hours. If you would like to confirm prior to heading on down you can call the grille room @ 978-256-9747
Lodge meetings are held the second and fourth Wednesdays at 7:30 pm.
House Committee meetings are held the second and fourth Tuesday at 6:00 pm.
Trustees meet the second and fourth Tuesday at 7:00 pm.
The kitchen is now open on Thursday, Friday, and Saturday (except for Christmas week) and on meeting nights, featuring daily specials.