Lodge #222 Home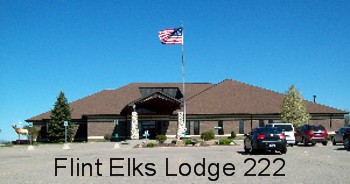 This is a Picture of the Front of our Lodge! Be sure and check the LODGE NEWS, Also get out to the Lodge for a nice meal and spend some time with your fellow Lodge members!

The regular Lodge meeting is at 7 P.M. (changed from 8 P.M.) on the 1st & 3rd Thursdays of every month, except July & August, when it meets only on the 1st Thursday. Meetings are held at 7177 East Maple Avenue in Grand Blanc, Michigan 48439.

The Board of Governors and Trustees meet at 6:30 P.M. on the second and fourth Thursday of every month.

THE LODGE SCHEDULE IS CHANGING, PLEASE CHECK THE CALENDER FOR THE CURRENT INFORMATION!

Do You Want to Join the Elks? To be eligible for membership in the Benevolent and Protective Order of Elks, you must be a citizen of the United States over the age of 21 who believes in God.

---
Back to top