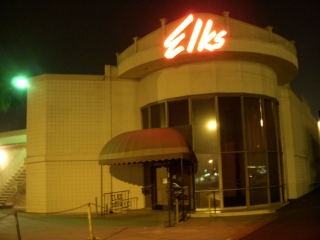 "Hear the Train a Comin' Get On Board for Elkdom"

The Benevolent and Protective Order of Elks (BPOE) Lodge #2020 proudly carries out community service and charitable events that include youth's programs, care of the needy, Veterans Service, furtherance of Americanism and other Benevolent activities.

Our Lodge was chartered on January 19, 1957. Elks Lodge #2020 is known as the "Friendly Lodge" with a "Friendly Vision" of all those we serve in our Lodge, our community and all surrounding communities.

Who are the Elks?

The Elks are American Citizens who want to save its great values; who love others and want to make sure they are healthy and happy; and who love life and want to contribute to it, as well as to share it.

"Although our statement is simple our goals are not."

Office Hours: Monday, Tuesday, Wednesday & Friday 9:00 AM to 4:00 PM, Thursday – 10:00 AM to 6:00 PM

Lodge Club Hours: Sunday, Monday, Tuesday – Open at 5:00 PM; CLOSED on Wednesday; Thursday Friday and Saturday - Open at 5:00pm
See website for calendar and special events: www.downeyelkslodge2020.com

LOCATION CLICK ON MAP TO VIEW LARGER IMAGE.


View Larger Map

Meets 7:30 PM each Thursday at: 11233 Woodruff Avenue Downey CA

"The faults of our Members we write upon the sand, Their virtues upon the tablets of love and memory."
VOLUNTEERS MAKE IT HAPPEN!!! to our member and non-member volunteers, THANK YOU FOR ALL YOU DO!!! WE APPRECIATE YOU VERY, VERY MUCH.