Lodge #1712 Home

Where old Friends meet new Friends...
---
California Fires & Victims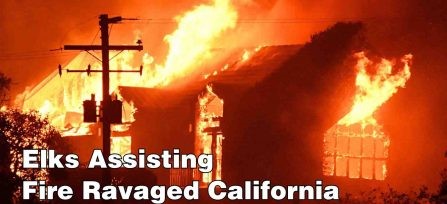 As you know, California has been ravaged by recent wildfires. Our neighbors to the north in the town of Pardise have been devastated by the entire town being burned to the ground. At this date 58 people have lost their lives and more than 10,000 structures have been lost, including the Paradise Elks lodge #2026.
Donations of goods and clothing items has been fantastic and now the need is for financial support. If you can make a financial donation, please make your check payable to
Chico ELks Lodge 423, with memo indicating "Paradise Elks-Fire victims"
Mail check to Chico Elks Lodge, 1705 Manzanita Ave. Chico CA 95962.
These donations will be used to directly support Elks Member victim of the Paradise lodge.
Thank You for your support and God Bless
---
Placerville Elk's Lodge welcomes all visitors to our Lodge located at 3821 Quest Court Shingle Springs, CA 95682

General meetings are held on the 1st and 3rd Tuesdays at 7:00 PM.

Please check our calendar page for our activities and dinners

Please call for reservations at (530) 672-9120.

We have 9 RV camping sites with electric and water hook-ups for $25.00 per night with an onsite dump station

Follow us on Facebook!
---
Important Dates
February 5 - Lodge Meeting, 7pm OFFICER NOMINATIONS
February 8 - Valentine's Dinner Dance, Social 5:30pm Dinner 6pm
February 19 - Lodge Meeting & Initiation - Dinner 6pm, Meeting 7pm
February 21 - Americanism Awards Dinner - 5pm
March 5 - Lodge Meeting, 7pm
March 19 - Lodge Meeting & Initiation - Dinner 6pm, Meeting 7pm
March 30 - Installation Dinner
---
Back to top