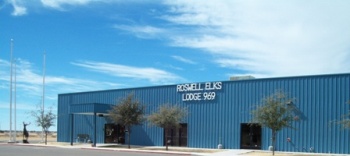 Welcome to Roswell Lodge #969!

Home of NMEA State Vice President Rick Callaway, S.E. District Deputy G.E.R. Larry Curtis, and 2008 National Ritual Contest Champions!

We are located at 1720 N. Montana Ave. Our Phone Number is (575) 622-1560

Our Lodge meets every 2nd and 4th Tuesday at 6:30 PM.

ATTENTION ALL STRAY ELKS - We would like to see you come home. Please contact us and let us know what we can do to make that happen.

Please look around and sign our Guest Book by clicking the links on the left.