Lodge #0748 Home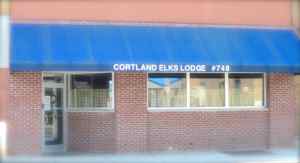 Cortland Elks Lodge 748
9 Groton Ave., Cortland, New 13045
Email: cortlandelkslodge748@gmail.com
Phone (607) 756-9748

Vist Our Full Website At: CortlandElksLodge.com
Click on the Buttons on the left to see what is happening at the Cortland Lodge, and to learn a little more about the Great Cortland Elk Lodge located in downtown Cortland. You will find latest news, club officers and committees, tour the facilities, and view club activities. Please do not forget to sign our guest-book and leave us a message. :-)

New! Pay your dues online! Click Here
Meets at: 7 PM 2nd & 4th Thursdays, except July & Aug, then 4th Thursday only.
The Lodge is located: at 9 Groton Avenue Cortland NY. Directions: exit I-81 at Exit #11 drive down Clinton Ave. to it's terminus at Main Street, cross Main Street onto Groton Ave., the Lodge is on your left, park in public parking lot past the Lodge. (There is also step by step directions found on our web page.)

Lodge Lounge open: 7 days a week/ 365 days a year (366 on leap yea
Usual Hours: Mon - Thurs 2 to 8., Fri. & Sat. from 12 to 9, Sun from Noon-6 PM, Holiday Hours: 10 AM to 2 PM
Visitors: "buzz in at the front door on Groton Ave.--- our Lodge is your Lodge--- sign the guest book and make yourself at home ! There is plenty of parking on the side of the building.
---
Back to top