Lodge #537 Home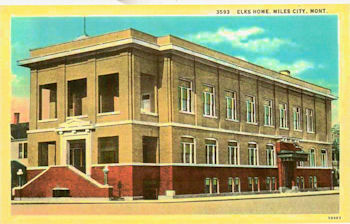 Hello from Miles City, MT

We meet second & fourth Tuesdays, except July, Aug., and Dec. we meet fourth Tuesday only, at 7:00 pm.

Directions: corner of 619 Pleasant and 7th Street N in Miles City MT.

We are open regular hours now. See our schedule in Facilities.
Wednesday evenings Pat Killen Treasurer and Robert Warn Secretary will be in the Lodge and will take phone calls if information is needed.
Also, Wednesday Evenings are Work Wednesday join us in fixing our Lodge. Grab a paint brush, a mop, etc. Our building turned a 100 years old in 2014 and always needs some upkeep.
Just some new information. In the last thirty years our Lodge has made the money and donated over $300,000.00
to different Charities in our community. We are very proud of this and continue this to this day.
---
Back to top