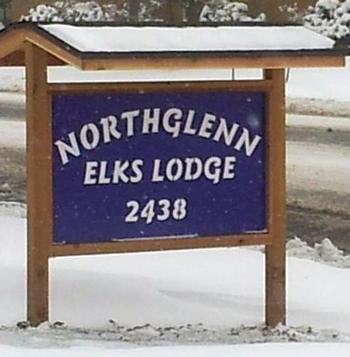 Welcome to the Northglenn Elks Home Page
Club Hours:
Mon - 3:00 pm until 11:00 pm
Tue - Fri: 2:00 p.m. until 11:00 p.m.
Sat: 12:00 p.m. until *12:00 a.m. (open until 2:00 a.m. for special events).
Sunday: Noon until 8:00 p.m.
Kitchen Hours:
Wednesday Dinner: 5:00 pm until 7:00 pm
Friday Dinner: 5:00 pm until 7:00 pm
Our Lodge Meetings are the first and third Thursday of the month at 7:00 p.m.
The Northglenn Lodge is a friendly Lodge and our strength comes from our members and their families.
We welcome visitors from other Lodges and invite you to join us when you are in town.
For further information call (303)-452-1644
.
To visit other sites for the Northglenn Elks Click the web site at the bottom of the page.
***Remember*** These sites are always being improved and updated so check back often.
See You At The Lodge!!
Web Page: http://www.northglennelks.org/ Go to Northglenn's Home Page