Sebasticook Valley, ME Lodge News
Past District Deputy John F. Ring passes away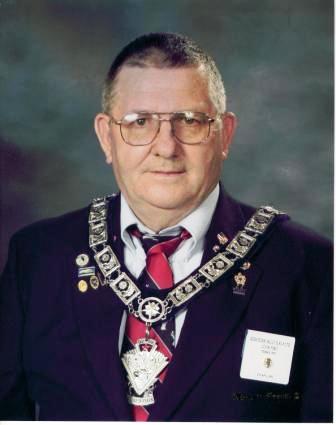 Past District Deputy John Francis Ring Sr, 74, died peacefully on Sunday, Jan. 24, 2016, surrounded by his loving family and friends at his home in Pittsfield.
He was a Charter Member of the Sebasticook Valley Elks Lodge, served three terms as Exalted Ruler and was appointed District Deputy Grand Exalted Ruler for Maine North in 1998-99.
John was born on May 24, 1941, in Hudson, New York, the son of the late John and Vivian (Wood) Ring. He proudly served our country in the United States Air Force during the Vietnam Era. He was employed by several businesses including Dexter Shoe, the Corinna Woolen Mill, S.D. Warren in Hinckley, Pittsfield Police Department and the Somerset Sheriff Department.
John was a graduate of Bible Baptist Seminary with a degree in theology, music and education. He built and pastored several churches. He served as the Mayor of Pittsfield, a Past Commander of the American Legion, and a Chaplain for several local hospitals. He was a member of the Pittsfield and Detroit Fire Departments for many years and also served as a state fire chaplain. He was also member of the Meridian Masonic Lodge 125 AF &AM, the Order of the Eastern Star Bethlehem Chapter 36 and the Anah Shriners.
He is survived by his loving wife, Madalyn Ring of Pittsfield; children, Anita Ring of Gardiner, John Ring Jr of Pittsfield, Becky Smith of St. Albans, Gerold Wilson of Burnham, Cindy Sanborn of Texas and Jenna French and husband, Matt, of Detroit; many grandchildren and great grandchildren, siblings, Frank Ring and wife, Lori, of Detroit and Dorothy Brackett and husband, Raymond, of Auburn.
He was predeceased by his parents; son, Wayland; daughter, Heidi; and two brothers, Jimmy and Harvey.
An Elks Memorial Service, Masonic Funeral Service and Celebration of Life was held on Saturday, Jan. 30, at St. Martin's Episcopal Church, 900 Main Street (Route 2) in Palmyra, with the Rev. Tom Gilbert officiating.
A committal service will be held in the spring at the Village Cemetery, Peltoma Avenue, Pittsfield, with military honors being presented for his service to our country.
---
Back to top