Gilbert, AZ Lodge News
2010 Most Valuable Student Scholarship Presentations
On May 4, Bernie Kane , Exalted Ruler, received a proclamation from Gilbert Mayor John Lewis proclaiming National Youth Week.

At that meeting, Exalted Ruler Kane made an announcement to the 75-100 people in attendance that the Gilbert Elks are honored to present five $1,000 Most Valuable Student Scholarships to Gilbert students.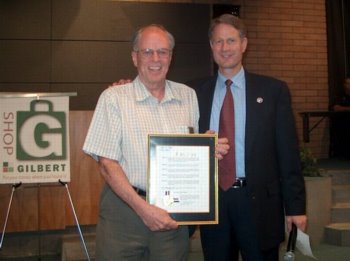 The program is sponsored by The Benevolent & Protective Order of Elks of The USA and funded by the Elks National Foundation. All high school seniors yearly are eligible to submit an application to be considered for this scholarship. The applications are then submitted to the nearest Elks Lodge where the process begins.

The Gilbert Elks Lodge # 2848 had a record number of applications and were very proud to have five of their sponsored students win. Elks give out more scholarship dollars to senior high school students than any other organization except for the federal government.

This year the scholarships awarded were just under 3 million dollars.

Presentations were made JR Iannocone an Officer of the lodge on Thursday May 6th.

We congratulate the following students (pictured left to right), Nathan Sema, Erika Handly, Taylor Lane and Chelsea Sweeney.

Kendall Kenopka was unable to attend that evening and received his scholarship at a later date.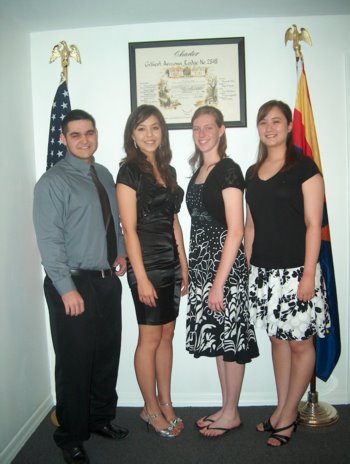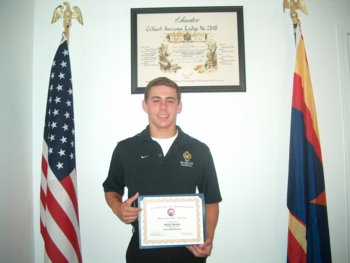 Nathan Sema, a Gilbert High School Graduate will attend the U of A to gain an Engineering Degree. Nathan has been active in athletics.

Erika Handly, a Mesquite High School Graduate will be attending BYU to earn a Degree in Chemical Engineering. Erika has been a volunteer in the surgery/ recovery department at Banner Desert Hospital.

Taylor Lane, A graduate of Highland High School will be attending NAU. Her goal is to earn a Degree In Forensic Chemistry. Taylor certified as the youngest Search & Rescue Canine Handler in the country. She currently volunteers with the Pinal County Sheriff's Office in the Canine Search & Rescue Dept and is credited with her first search & rescue find of 4 hikers in the Superstitions in January of this year. Taylor also received the Prudential Presidential Community Service Award for over 1,000 hours of communty service in search & rescue activities.

Chelsea Sweeney is a graduate of Mesquite High School. Chelsea will be attending Honors College at U of A. Chelsea has been a leader in caring for the environment. She has conducted a weekly recycling program at school and worked in community clean up projects for some time.

Kendall Konopka, a Marcos De Niza High School Graduate will be attending Point Lorna Nazarene for Business in San Diego. He has broken a number of his School and State records in baseball and will be on a baseball scholarship.

The Elks are proud to play a role in the futures of these exceptional youth. Bernie Kane the Exalted Ruler of the Gilbert Elks Lodge and all the Lodge members wish them every success.

Any questions regarding the Gilbert Elks can be addressed by calling Bernie at (602) 677-3890.

---
Back to top