Ishpeming, MI Lodge News
Tom Bianco elected 2nd Vice President
Ishpeming Elks Lodge #447 is proud to announce that one of there own, Thomas A. Bianco, was elected 2nd Vice President of the Michigan Elks State Association. Tom was voted in to office and installed at the 103rd Annual Spring Meeting held in Manistee, Michigan, May 15th-May 18th, 2008. Tom's primary responsibility as 2nd Vice in the coming year will be to serve as Michigan Coordinator for the Grand Lodge Convention to be held July 2009 in Portland, Oregon.

Pictured below; Past State President,
Mel Hendrickson, who nominated Tom for office on the left, Bianco on right.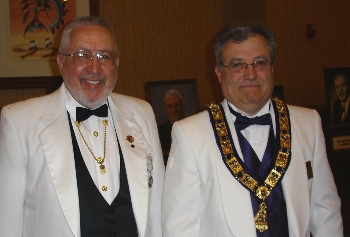 Here below shows Tom with his lovely wife, Emily, following his installation on May 18th. Don't look so nervous Tom!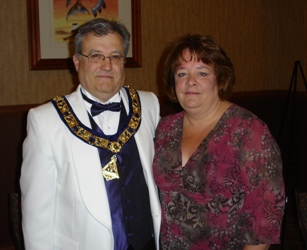 ---
Back to top