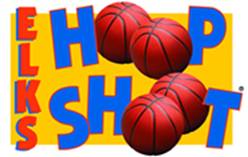 Hoop Shoot News at Lodge #931
It's Elks Hoop Shoot Season and local director, Greg Kupetz, has started the process by mailing packets of contest information to all schools in Indiana County. During the upcoming weeks, individual schools will begin competitions for 8 – 13 year olds. The six winners from each school will move forward to the local contest held on Saturday, January 6th at the Indiana YMCA. That event will determine six winners who will move on to the district level competition in Kittanning on January 28th. Good luck to all the participants and watch for updates to follow.
---
The Elks National "Hoop Shoot" Free Throw Program is open to all boys and girls, ages 8 through 13. All public and private schools within the jurisdiction of the local Elk Lodge are invited to participate in the Elks National "Hoop Shoot" Free Throw Contest. Depending on interest, many school districts may participate in the Lodge contest.