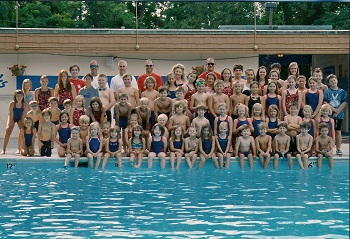 2017 MIGHTY ELKS SWIM TEAM
The 2017 season was a definite success. Coach Frank and The Team's 4th place finish at the Championship Meet was highlighted by Shelby Stanley and Nataliya Muller, who both won all 5 of their individual events. Other individual event winners included Tyler Sykes (33.27 in the 50 Yard Backstroke) and Archer Eades (36.83 in the 50 Yard Freestyle). Placing 2nd in both the 100 Free and 100 Medley Relays was the 8-and-under relay team: Elena Mullen, Andrew Lamm, Alexis McFarland, and Archer Eades. The 9-10 relay teams included Tyler Markwood, Frankie Hughes, Ben Schweitzer, Kate Cumins, and Frances Livingston. The 11-18 relay teams included Tyler Sykes, Finn Mroz-Roakes, Grace Landolt, Matt Rheinheimer, Jonah Mroz-Roakes, and Ryder Parry. Every swim mattered, whether it was a gold, silver, or bronze division time!
Congratulations to Thomas Wahl for receiving the first ever Mighty Elk Award at the team banquet. His leadership, friendliness, and dedication to The Team did not go unnoticed this season. Other award winners included Preston Halsdorf for Most Improved; Coy Lamm for The Hustle Award; and Beatrice Livingston, Kate Cumins, and Georgia Brown for the Coaches' Awards.
Interested in joining The Team for 2018? Contact Liz at elks197swimteam@gmail.com.