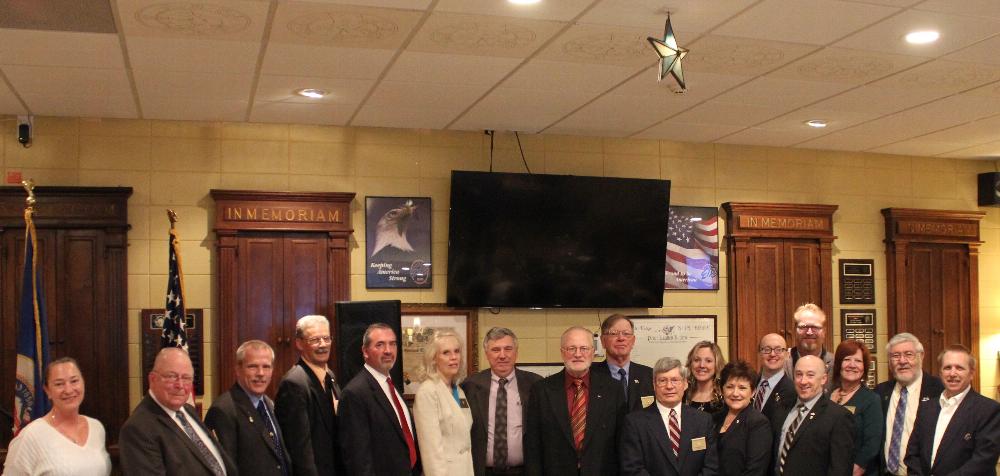 Stillwater Elks Club serves community for 125 years
Published in the Stillwater Gazette November 19, 2016 at 3:34 pm .
One of the oldest existing organizations in the St. Croix Valley is celebrating one and a quarter centuries this year.
With a charter dating to 1891, the Stillwater Elks Lodge #179 was serving the area well before Henry Ford's Model T went into production.
"Not too many organizations last this long," said Steve Faltus, exalted ruler of the Stillwater Elks Lodge — a role similar to the president of other organizations.
According to a Dec. 15, 1890, article in the Stillwater Gazette, the lodge was organized Dec. 13, 1890, with 25 members. It received its charter May 20, 1891 — 14 years before the Minnesota Elks Association was formed.
The Elks began as a "fraternal organization," but the group is now open to both men and women who have a desire to serve others and build friendships, according to Faltus.
"It's for people who want to give back to the community," Faltus said. "For me that's what it comes down to."
The national Elks organization was founded under the name "Jolly Corks" on Feb. 16, 1868, in New York City.
"It was a bunch of actors that were looking for a private clubs where they could consume alcohol on Sunday, which, at that time, was illegal, unless it was in a private setting," Faltus said.
The order was founded with goals to "promote and practice the four cardinal virtues of Charity, Justice, Brotherly Love and Fidelity; to promote the welfare and enhance the happiness of its members; to quicken the spirit of American Patriotism and cultivate good fellowship."
In Stillwater, many prominent businessmen, politicians and community leaders have been members of the Elks. Their names are recorded on memorial boards that line the wall in Lodge #179.
"It's really a who's who of Stillwater," said Jim Joslin, a past exalted ruler of the Stillwater lodge.
By 1922, the lodge had 556 members.
Lodge #179 has occupied several locations in its history.
During its first 30 years of existence, it was housed at various locations in downtown Stillwater. By 1921, it moved to the three-story building at 110 S. Main St., which served as the lodge's home 62 years.
In 1983, the lodge moved to 279 E. Myrtle St., and then to 1905 S. Greeley in 2004. Finally, in 2014 it moved to 5880 Omaha Ave. N. in Oak Park Heights, where it's now located, in the same building as the VFW.
Over the years, the Stillwater Elks were known for their New Year's Eve parties, minstrel shows and after-prom parties for the high-schoolers. Today, many are familiar with the Elks' Christmas tree sale next to Lily Lake in Stillwater, but don't know much about the organization itself.
"I kind of look at us as the silent organization," Joslin said. "We're out there doing things but we don't really toot our own horns. … I think if the organization wasn't providing a service that was need in the area or wasn't an ethical organization, I think we would've gone by the wayside a long time ago."
Many of the programs the Elks support focus on youth and veterans, Faltus said. They send kids to summer camp, sponsor college scholarships, give away Christmas trees to those who can't afford them, help place homeless veterans in apartments and more.
One of Joslin's favorite memories is singing Christmas carols at senior homes in the St. Croix Valley.
"Just to see the joy that you can bring to somebody in a residence like that gives you a lot of satisfaction," he said.
The Elks also focus relationships with each other.
"Another thing that's big over there is just the camaraderie of the members," Faltus said. "Whatever generation you are, it's a great place to be."
Like many other civic organizations, the Elks have faced some struggles attracting younger members in recent years. Faltus invites the community to check out the club with no pressure to join.
"The public is always welcome," he said.