Lodge Facilities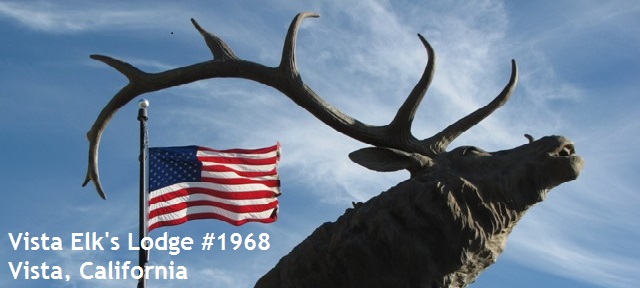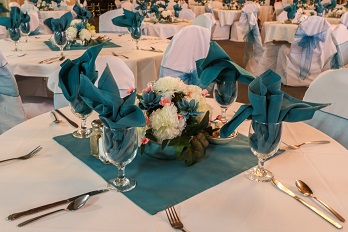 North County's Most Affordable Rental Hall
Our Rental Facility is the most affordable Wedding Hall in North County! It has room for 300 people! Some of our many amenities include... Ample parking for all size groups ~ RV Park adjacent to Hall ~ all on one easy level ~ Indoor & Outdoor Venues ~ Large Dance Floor ~ Guest Tables ~ State of the Art Kitchen ~ Wheelchair Accessibility~ Shade Umbrellas on the Patio ~ Fire Pit on Patio ~ Manicured Lawns. Our set up includes: The Head Table, Cake Table, Gift Table, and Banquet Rounds for Private Wedding Ceremonies, Receptions, Anniversaries, and Quinceaneras. Business Seminars of 6 Hours allowed with additional time for setup and rehearsals. Our Main Banquet Room is just under 4000 square feet including the dance floor * FULL KITCHEN* Full Bar * Wooden Dance Floor * DANCING AND DINNER * Classic Cocktails. 100 persons minimum on Saturday & Sunday. One-year-advance bookings are available.
Use and or possession of marijuana products are unauthorized on these premises, Under the Federal Controlled Substances Act (CSA) of 1970, Marijuana is classified as a schedule 1 substance, Schedule 1 drugs have a high potential for abuse and dependency, with no recognized medical use or value. Any marijuana possession, cultivation or use is a Federal Crime, subjecting the defendant to fines, prison time or both.
The passage of California Proposition 215 in 1996 legalized medical marijuana under California state law. The passage of proposition 64 in 2016 made recreational marijuana legal under California state law. The passage of Proposition 64 allows adults aged 21 years or older to possess and use marijuana for recreational purposes under state law. Smoking is permitted, under California state law, In a California private home or at a California licensed business for on-site marijuana consumption. Smoking marijuana remains illegal under state law while driving a motor vehicle, anywhere smoking is Tabaco is illegal and in all public places. Both Medical and recreational Marijuana remain illegal under federal law.
The Elk's Drug Awareness Committee teaches the possession, cultivation or use of marijuana on Elk premises, or in Elk sponsored events is wrongful conduct. Given the obvious conflict between Federal and State law regarding the cultivation, possession or use of Marijuana, and the Elks national policy on drug use, no form of marijuana or cannabis products may be cultivated, used or possessed on the premises of this lodge.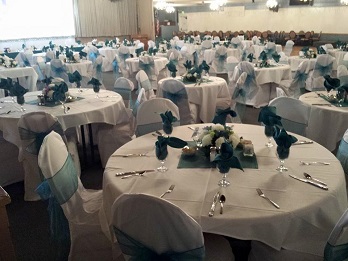 Our Rental Facility
WE SPECIALIZE IN FUN TIMES!
The Vista Elks Lodge is one of the best venues available in San Diego north county at an affordable price.
Our Lodge features a beautiful dining room, a spacious dance floor, a wonderful outdoor patio with its own BBQ area, and ADA-accessible restrooms. Included in the rental are our tables, chairs, built-in sound system, and moderate climate control.
The Vista Elks Lodge is designed to comfortably and smoothly accommodate special events from weddings to small conferences. Our venue coordinator has worked with countless parties to create experiences that are unique, classic, and affordable. No matter what your event, booking with The Vista Elks Lodge is a great choice!
Rental Coordinator: Sharon Heyden 760-212-2029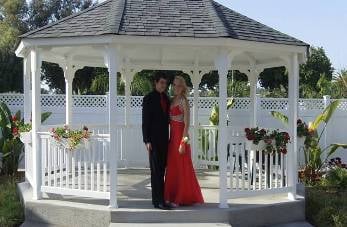 Gazebo
Our gazebo, erected in March 2012, can provide a beautiful and elegant structure that will look like it was built especially for you. We take pride in our facilities and know that you want everything to look seamless for your special outdoor event.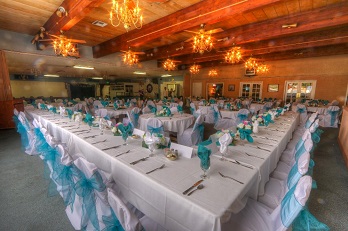 Vista Lodge Dining Room
Beautiful new chairs & tables for your dining pleasure. We have a band every Friday evening. Dinner begins at 5:00PM and music at 6:30PM to closing on Friday nights. We have room for 300 guests & many times we are sold out, so, Advance Reservations are highly recommended!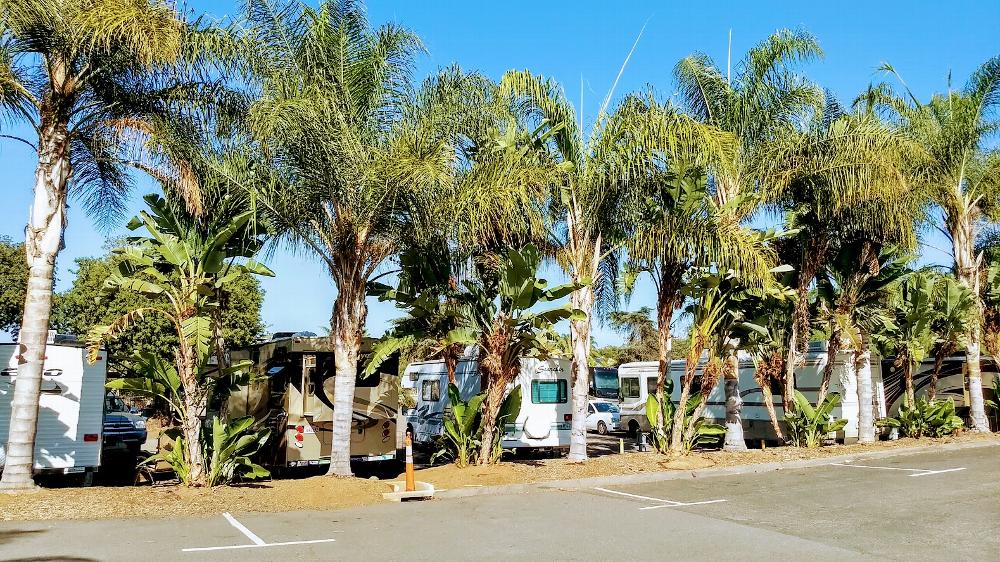 Vista Elks R/V Park
For Reservations call 760-330-1861 or RV Park email address: rvhost1968@gmail.com
WELCOME ELK TRAVELERS!
It's no secret that California is one of the most popular destinations for RVers, especially in the winter months. And the Vista Elks RV Park is regarded by many Elks RVers as one of the best in Southern California.
The RV Park is centrally located in beautiful San Diego's north county, minutes from the ocean and close to restaurants, local theaters, and casinos. Best of all, it's part of one of the most active Elks lodges in the state.
If you're traveling to Southern California, do yourself a favor and spend some time with us! We're known as "The Friendly Lodge."
Ask your RV Park Host about becoming an associate member of our lodge!
AMENITIES
All sites include FULL HOOKUPS with electric, water, and sewer!
- Free WiFi
- Coin-operated laundry facilities
- Propane - purchase or exchange
- Propane and charcoal grills in the picnic area
- An enclosed Dog Park
- 2 fire pits
- 2 horseshoe pits
- 30 picnic tables
- Sound System
- Outside Bar
- Bocce Ball (in the Lodge yard)
RV PARK RATES
Vista Elks Members (per night)
50 amp site $36
30 amp site $34
Non-Vista Elks Members (per night)
50 amp site $38
30 amp site $36
Dump Usage FREE while staying at the park $10 for non-guests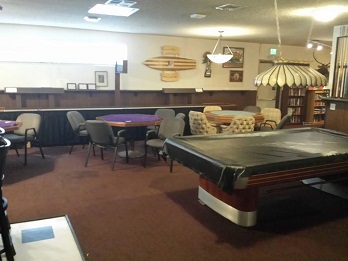 Game Room
Our Lodge Game room features Billiards, Darts, Poker, and many electronic games.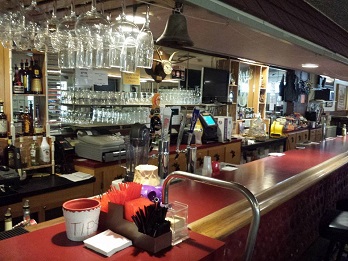 Our Full Service Bar
Our bar is open Monday thru Saturday at 11:00AM to close. Join us for breakfast on Sundays 8:30am to noon!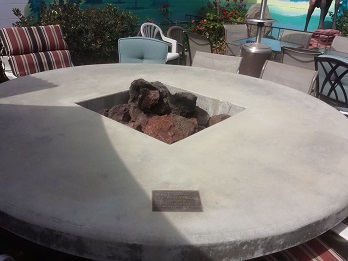 Patio Fire Pit
The Rossi Brothers Donate Fire Pit! When member Al Rossi passed away, Al's sons who now own the Rossi Concrete company knew how much Al loved the Vista Elks Lodge and they wanted to do something so Al would always be remembered at the Lodge. They have donated & built a fire pit in memory of their dad. Al enjoyed sitting at the table shooting the bull every morning with his friends. The Rossi boys are hoping that people will remember Al in years to come, as they are sitting around the fire pit, telling old stories.
BBQ and Bocci Ball
Enjoy our handmade Gas/Charcoal BBQ, while having a cocktail on the patio. Every Thurday the Lodge hosts a "Cook your own Steak Night. It's really simple, You purchase a Ribeye, Flatiron or Fillet Steak from us, we provide the Baked Potato and Salad. Cook your steak to your own liking on our grill and your set. Also our Bocci Ball court is always a place to meet new friends or enjoy a good time with old friends.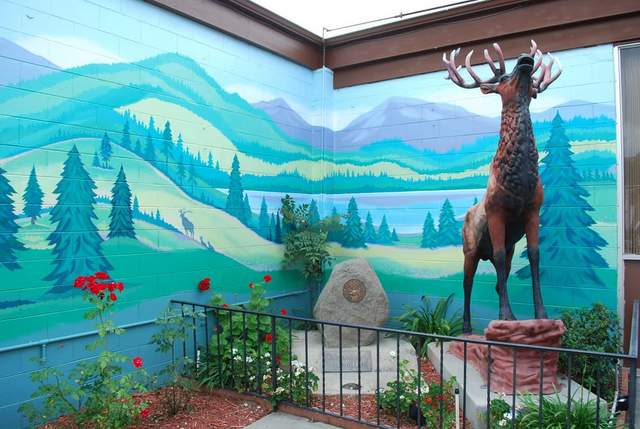 Life Size Elk Statue
Life Size Elk Statue The Members of Vista Lodge # 1968 chipped in and purchased a life size ELK statue cast from aluminum, to place at our front entrance right next to our eternal flame. A very impressive sight as you walk into our building, it will be there to welcome all Elks & their guests for years to come!
Purple Pig Fund Raiser
The Purple Pig is the fundraising arm of the California-Hawaii Elks Association Major Project, Inc. (CHEMPI). The California-Hawaii Elks have raised over $100.6 MILLION since 1950 to address the unmet needs of children with disabilities by developing a program of supporting services to aid these children at no cost to their families.
The Vista Elk's Lodge will have 2 fundraisers this year for the Purple Pig Charity. One at the 4th of July Picnic and one in October.
New Years Eve Party
Each year, we host a New Years Eve Party and usually have at least 200 Members & guests attend this function.
---
Back to top