Lodge Facilities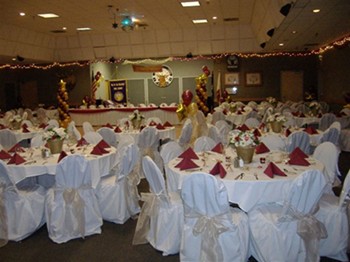 Dining Room
Sunday Breakfast: Twice a month - please see recent weekly updates. 9:00AM to Noon.
Weekday Lunch: Noon to 2pm in the Lounge on Weekdays. Various Sandwiches, Burgers, Salads, and specialty Items
Tuesday Dinner: Served from 5:30 to 6:30 PM Before our weekly member meeting. As of April, we now are offering a Soup/Salad option for $5.00, Regular Dinner is $10 or Dinner and Soup/Salad for $15 per meal.
Friday Dinner: Served from 5:30 PM and 6:30 PM. Menu varies and includes Choice of Steak or Seafood. Check the Calender for Menu. Live entertainment also offered starting about 6:30 for dancing and your enjoyment.
Guests must be accompanied with an Elks member.
NEED TO HOST AN EVENT?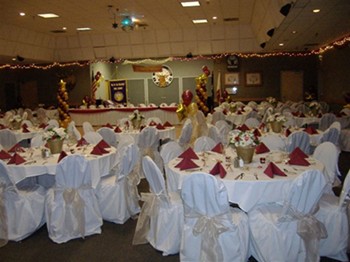 The Dining Room holds up to 200 people and is available for private parties - Receptions, Anniversary Parties, Special Events, Class Reunions, Quinceneras, Movie Shoots, Weekly Meetings, etc. We have full kitchen facilities, full bar, and plentiful on site parking make this an excellent option for your next event. The room is equipped with PA system and large projector screen for video/photos presentations. Please contact the lodge secretary for pricing and availability.
Lounge
Lounge is open during the following hours:
Monday thru Friday: 11:30 AM Thru Closing
Saturday and Sunday: 1:00 PM thru Closing - except when serving breakfast, we will be open when breakfast starts.
Elks Members and their guests are invited. We have a full Bar, and a great place to get together with friends. The lounge has 5 TV's to view sporting events. We also have a small back bar that may serve smaller events. Visiting members are always welcome to enjoy a beverage, have lunch, or get caught up with our members - don't forget your membership card!
RV Parking
We have up to 5 RV spaces in our paved lot west of the building. Our lodge is centrally located in Glendale, across the street from the Americana, and about one mile each of the 134, 5 and 2 Freeway access.
Donation is $30 per night for fellow members. Check in time is between 11:00 AM and 3:00 PM.
Amenities include 50 Amp Power and Water hookups. Dump service is available at a fee. We also have shower, restrooms, and Wi-Fi available.
Please call the Lodge (

818-242-2105

) for more details, reservations, and availability. Upon arrival, you will need to check in at the office, or bar in the event office is closed. We have an access card available for small deposit.
---
Back to top