Press Releases
Elks Gear Up for Christmas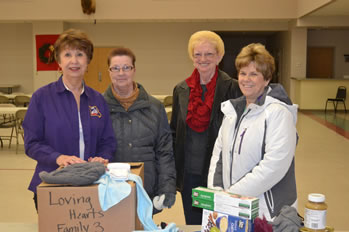 During the Christmas season, Elks lodges around the country gear up and show their holiday spirit to their communities by helping those in need. Throughout the month of December, lodges often host Christmas parties for needy children, contribute generously to charities that assist families and children (such as the Salvation Army and the US Marine Corps Reserve Toys for Tots Program), and provide Christmas food boxes, many of which also contain toys and gifts for the families' children, to thousands of needy families.
Some Christmas food boxes will be delivered to needy families directly by lodge members, while others will be provided by the lodges to local community organizations to be distributed. For example, the
Washington, Missouri, Lodge
has provided 250 boxes of food and about 400 toys to three charities this year to be given to the needy families that those charities serve.
Pictured with one of the boxes are (from left) Washington Lodge Food and Toy Project Coordinator Barbara Delleart, Pregnancy Assistance Center representative Fritzi Alfermann, Loving Hearts Outreach representative Sandy Crider, and St. Vincent de Paul Society representative Nancy Eckelkamp.
Back
---
Back to top