Who are the Elks?
Elks are community.
No matter where you go in the country, an Elks Lodge is right around the corner. With more than 850,000 members and 2,000 Lodges nationwide, Elks are providing charitable services that help build stronger communities.
Click here to join us in service to your community!
Memorial Art Tour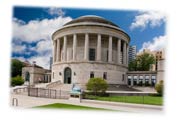 The Elks Veterans Memorial and Headquarters Building has been a Chicago landmark since its dedication on July 14, 1926. The accompanying photographs can only suggest the beauty and grandeur of this awe-inspiring structure, designed by New York architect Egerton Swarthout, and considered by many experts to be the finest of its kind in the world. Sculptures are by three of the greatest artists of their day, Adolph A. Weinman, James Earle Fraser and Fraser's wife, Laura Gardin Fraser. The allegorical murals are by Edwin H. Blashfield and Eugene Savage.
Grand Reception Hall
Sculptures
Murals
---
Back to top